Expertise makes Granite Group Benefits stand out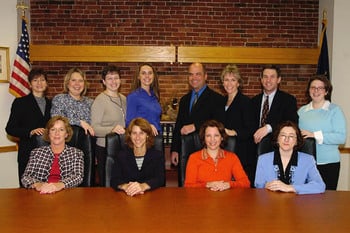 Granite Group Benefits LLC is a leading employee benefits consulting and administration company representing employers throughout New Hampshire and nine other states.
Granite Group's knowledgeable and experienced staff offers exceptional service overseeing its clients' daily employee benefit needs.
Founded in 1992 by K. Brian McLaughlin, Granite Group has grown organically and through acquisition to keep up with changes in the health-care industry. In the last 18 months, the company has expanded from just two employees to 12, including nine licensed professionals, consultants, client managers and administrative staff. This growth necessitated a move two years ago to its new headquarters in the Atrium Building at 1001 Elm St. in Manchester.
Granite Group also has grown by offering clients value-added services and cutting-edge Web-based products. Employee Benefit Centers give employees a single place to get access to descriptions of benefits, links to insurance carriers, medical self-help search engines and drug reference information.
HR Insider is a research and evaluation tool for human resources professionals, providing access to information on such issues as COBRA, FMLA, HIPAA and the Uniformed Services Employment and Reemployment Rights Act ('USERRA') as well as other information — all at the click of a button.
Another Granite Group product, benefitsCONNECT, is a richly featured human resources information system that tracks employee and census information and enrollment statistics in real time and on line. This system also enables employees to access, enroll and update their benefit information.
Granite Group is a member of United Benefit Advisors, a nationwide consortium of 87 privately-owned employee benefit consulting firms.
"There are very strict guidelines to become a member of UBA," said McLaughlin. "We are the only New Hampshire member of United Benefit Advisors."
McLaughlin said the greatest advantage in belonging to UBA is that member firms share information and pool resources without competition to benefit their members and clients.
McLaughlin said Granite Group truly understands the needs of its clients. "Your employees are one of your most important resources. We help you manage this critical resource by helping you decide which plans are right for you and your employees, and most importantly, helping you make your benefits accessible and understandable."