Expert says Enterasys stockholders lost $144m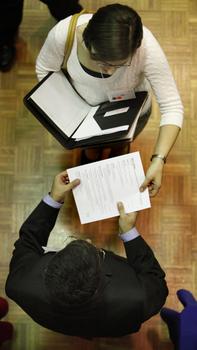 The fraudulent conduct of former Enterasys Networks executives caused stockholders to lose at least $144 million, according to a prosecution expert report filed with United States Federal district court in Concord on Monday.
The report is the opening salvo of dueling experts that will cumulate in a hearing in late June in order to determine the sentencing of the four executives convicted by a federal jury in December as well four others who pled guilty to lesser charges in exchange for their testimony.
All the executives allegedly took part in a conspiracy to inflate revenue in 2001 when Enterasys was spun off from Cabletron Systems, once the state's largest employer based in Rochester. But their sentence depends on federal guidelines, which take into account the amount of loss caused by their conspiracy.
When indicting the conspirators, the prosecutors said that the stock price following the announcement of a Securities and Exchange Commission investigation and a revenue restatement resulted in a $1.3 billion fall in the company's stock valuation.
However, the indictment only pointed to $11 million of the company's overstatement due to fraud, which defense attorneys have pointed to as closer to the figure of actual loss.
The 28-page prosecution report – submitted by Laura Stamm, the managing principal of Boston-based Analysis Group at the rate of $525 an hour – attempts to tease out how much of that stock price actually reflected stockholders loss and how much of that loss is attributed to fraud.
Stamm said she only looked at stockholders who bought during the period in question, from Sept. 7, 2001 to Nov. 26, 2002. She noted that there would have been a price decline even if the revenue was correctly reported all along. But the decline was even steeper because of the company's emphasis that it hadn't missed a revenue target in years. That's why, "even without the suggestion of fraud, a relatively small amount can cause a large change in a company's valuation because it has a large impact in future growth estimates," she said.
But fraud makes things worse.
"Fraud," she wrote, "causes a stock price to decline over and above the decline caused by the underlying disappointing economic news that the fraud was attempting to conceal."
Using complex mathematical formulas, Stamm concluded that investor losses as a result of fraud range from $97 to $262 million, depending on how much should be attributed to the fraud: 33 percent or 100 percent. Stamm said that 50 percent, resulting in a loss of $144 million, was a conservative estimate.
A hearing on the matter was scheduled for June 27, followed by the sentencing of the four convicted defendants: former CFO Robert Gagalis; Bruce Kay, former Vice President of Finance; Robert Barber, a member of the Enterasys' investment team; and David Boey, who headed sales in the company's Asian Pacific division.
The jury failed to reach a decision on COO Jerry Shanahan, who is scheduled to be retired in September. The court, however, automatically reschedules a retrial in the case of a mistrial.
Prosecutor William Morse declined to comment on whether a decision has been made to actually retry Shanahan.
Sentencing for former CEO Enrique Henry Faillo as well as three other executives who have pled guilty to lesser charges, has been put off until July. Their sentences would depend partly on their cooperation as witnesses as well as the loss involved. — BOB SANDERS