Exec brings personal perspective to working with visually impaired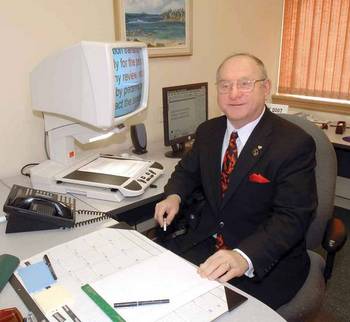 Guy Woodland, newly appointed senior vice president of the New Hampshire Association for the Blind in Concord, begins each day at the office by checking his voice mail messages. It's rare that there isn't at least one request for help from an individual learning to live with blindness or visual impairment.
"There's a loss of self-esteem that goes along with being visually impaired," Woodland said. "Friends don't come to see you, you can no longer drive, you begin to feel as though you're losing your independence. It can be very difficult."
Each year the association provides assistance to 1,600 blind or visually impaired New Hampshire residents — only a fraction of the 40,000 actually residing in the state.
Like many company executives, Woodland spends his workweek overseeing day-to-day operations, managing existing programs, initiating new ones, answering e-mails and returning phone calls. His work takes him from his office at the McGreal Sight Center on Walker Street to the nearby State House and to the schools, businesses and homes of association clients scattered throughout the state.
Unlike many executives who perform similar duties, however, the new senior vice president of the state's leading blind services organization is legally blind himself.
Complications at birth left Woodland without sight in his left eye. A detached retina 20 years later robbed him of 98 percent of the vision in his right eye. In the years since, Woodland has become a prime example of the fortitude and ability of individuals living with physical challenges.
"You have to be a very determined person," said Woodland, 59. "Being considered for a job should be about a person's education and experience, but unfortunately that's not always the case."
A role model
While his visual impairment has given Woodland a more intimate level of understanding the challenges facing the association's clients, it is his nearly four decades of experience in advocating for the blind and visually impaired that have armed him with the knowledge and compassion he has used to nearly triple the number of programs offered at the association since joining its staff as supervisor for program services eight years ago.
"Our ability to serve people has more than doubled in the last five years," Woodland said, adding that growing demand makes maintaining the association's annual $2 million budget – funded through grants, donations and trusts – a top priority.
Thanks in part to Woodland's direction, the New Hampshire Association for the Blind now offers everything from counseling, support groups and referrals through its social service department to rehabilitation teaching, mobility instruction, educational and technology services, public education, transcription services and volunteer programs.
"Guy is an enormously effective leader," said George Theriault, president and CEO of the association. "He is an able, experienced, hard-working person who has gotten where he is because of his ability. He is a wonderful role model, proving it's more about attitude than anything else."
In addition to the exemplary job Woodland has done and continues to do for the association, Woodland is living testimony to the wealth of resources in New Hampshire's blind and visually impaired workforce.
According to Woodland, only 30 percent of visually impaired people ever work. The reasons, said Woodland, are many.
Fear and uncertainty often exist on the part of the employer, proving a formidable challenge for visually impaired would-be workers. Woodland learned this nearly two decades ago, when he secured only one interview after sending out 100 resumes. The lone interview resulted from the only resume on which Woodland had omitted the fact that he was blind.
"That told me employers see blindness first," said Woodland, who eventually went on to spend nearly 28 years working for the Canadian National Institute for the Blind, the world's largest nonprofit organization dedicated to serving the visually impaired. Woodland had risen to the position of executive director before excepting a job with the New Hampshire Association for the Blind.
Sadly, said Woodland, employers' attitudes towards blindness and other disabilities have changed little since his informal experiment.
"Employers think, 'What's it going to cost me to hire this person?'" Woodland said, noting that 90 percent of visually impaired individuals are, like him, at least partially sighted. "They also worry about being able to terminate employment should things not work out – for any reason."
Educating employers
Woodland's office is a prime example of the minimal adaptations that can be introduced to accommodate someone with a visual impairment.
The L-shaped desk in Woodland's office resembles that of any company executive – phone, computer, some files and letters. A screen reader and hand-held magnifier are the only visible differences. An additional software program enables Woodland to utilize his computer just as any sighted person would. The total cost to accommodate Woodland? About $2,500 – a small investment in someone with Woodland's expertise, said Theriault.
"The expense was so low. Today access to information and communication are so readily available it seems absurd not to hire someone because they're visually impaired," he said. "It should be about their ability, not a disability."
And, as for legal concerns, Woodland and Theriault both agree — the frequency of such problems is very low.
"Employers get a better employee because they are going to be grateful for the opportunity," Woodland said.
In addition to securing loyal, capably employees, there are tax incentives for employers of visually impaired individuals. (Interested employers can learn about these incentives by contacting the state Department of Education's Bureau of Vocational Rehabilitation 800-581-6881.)
"There are a variety of tax incentives out there for employers," said Bill Finn, administrator of services for the blind and visually impaired at the Bureau of Vocational Rehabilitation. "But the best reason to hire is because the company gets a qualified capable worker."
But despite the incentives, seven of 10 visually impaired people living in New Hampshire are currently unemployed — a difficult statistic, considering New Hampshire's unemployment rate hovers around 3 percent.
The employment picture can be changed, said Woodland, by educating employers and continuing to address the needs of New Hampshire's blind and visually impaired population.
"We're pleased to talk with employers about this untapped resource," Woodland said. "We're happy to do anything we can to breakdown these barriers."
For information on services offered at the New Hampshire Association for the Blind, call 224-4039 or visit sightcenter.com.