Excellence in N.H. architecture honored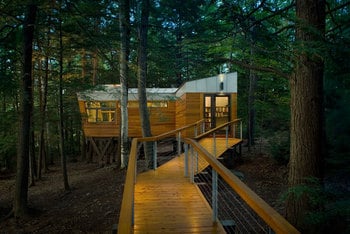 The creation of a new performance space at the historic Music Hall of Portsmouth and the renovation of another historic building — the Newbury Center Meeting House in Newbury — have won the highest accolades in the American Institute of Architects New Hampshire Chapter's 2012 Excellence in Architecture Awards.The awards, presented Jan. 20 at the New Hampshire Institute of Art in Manchester, annually honor New Hampshire projects that "exemplify excellence in overall design, including aesthetics, clarity, creativity, appropriate functionality, sustainability, building performance, and appropriateness with regard to fulfilling the client's program."All told, six projects were recognized at the event, along with another two buildings that won the annual People's Choice Awards, based on voting by the public.Winners of the top Merit Awards were TMS Architects of Portsmouth for its work on the Music Hall Loft, a new space just around the corner from the Music Hall, which was built in 1878. The 124-seat Loft features live performances and films in more intimate setting that the 900-seat Music Hall (itself named an "American Treasure" in 2005).Members of the jury noted that the architects "used incredible imagination in this project. The amount of transformation from before to after is really inspiring. Both the public spaces and the office spaces are treated appropriately for their different uses. Nothing is out of proportion, they were smart about materials, leveraged lighting and graphics to great effect, and spent money in the right places but kept the overall costs low."General contractor for the project was John P. DeStefano of Portsmouth.The other Merit Award was presented to Richard M. Monahon Jr. AIA Architects of Peterborough, for its renovation of the Newbury Center Meeting House.The early 19th century building had been in serious disrepair for many years, including incremental decay from site drainage and failed roofs and structural failures in the three primary girders, sidewall posting, sills and floor framing.The level of damage required the complete removal of the interior plaster and lathing. Restoration also included new timber-framed roof trusses, new interior plaster to match to original and a detailed removal and reconstruction of the cupola. Interior paint finishes were cleaned and restored to their original color palette.Wrote the jurors: "This is a true historic project, and even though the decisions were fiscal, the right alternative decisions were made. What was done here is terrific and respectful and the jurors could find not fault. Even the framing, which is not visible, was treated in an historic way. The quality of details is exceptional and the level of care extraordinary; no short cuts were taken. The project shows really unusual details; the architects were really thinking and cared. Lots of love went into this project."Contractor manager was North Branch Builders of Concord.Winners of Citation Awards were: • Samyn-D'Elia Architects, Ashland, Holderness School Dormitories and Faculty Residences, Holderness: Ward D'Elia of Samyn-D'Elia Architects worked with members of the Holderness School community to design new LEED Gold certified dormitory housing for 48 students and residences for six faculty families. In order to house many students and faculty in a single area without having the buildings become overpowering, the site plan and building design was developed to resemble a small New England neighborhood with the visual aspect broken into smaller components. The project serves as a template for sustainability programming at Holderness School with student involvement in setting energy conservation goals, exploring sustainability options, job site recycling and ongoing monitoring of electricity, propane, and water use through a real-time, Web-based energy kiosk in the living room of each building.Design/builder: Milestone Engineering and Construction Inc., Concord. Landscape architect: Pellettieri Associates Inc., Warner. • H3 Collaborative Architects, New York, N.Y., and Daniel V. Scully Architects, Keene: Stonelea, Dublin: The house, an 1891 cottage, has been renovated with both the goal of historic preservation and net-zero energy in mind.The goal was to modernize the compound to be Grandmother's Gathering Place, a family retreat. This project, which also added a garage and mechanical room, is as energy efficient as possible, including geothermal wells, heat pumps and solar hot water. It also produces 100 percent of its required electricity with photovoltaics. A new kitchen, bathrooms, a swimming pool and spa have been added within the original structure.Construction manager: MacMillin Construction Inc., Keene. Landscape architect: Jane Macleish Landscapes, Washington, D.C. • Eric Thompson Design, Columbus, Ohio, ThinkHouse, Jaffrey: A cabin for writing, studying and reading in the forest on Frost Pond in Jaffrey, The ThinkHouse is designed as a place for peaceful contemplation. To achieve this feeling, the study was raised up from the ground and into the trees, which not only adds to the experience of nature but also minimized the disturbance of the site that a conventional building foundation would require. Extensive windows, especially on the north side where daylight is glare-free, give the writer an experience of being in the forest with natural light filtering through the trees.General Contractor: Cedarwood Development Corp., Jaffrey.An Honorable Mention for Unbuilt Architecture was presented to Julie Rahilly of Nashua, a student at Wentworth Institute of Technology, for her design of The Annex Connector for the Boston campus.
People's Choice Awards were presented to Frank Anzalone Associates of New London, for its residential Pleasant Lake Landing project in New London. Bruss Construction of Bradford was the construction manager. Winner of the favorite commercial project award was the Northeast Rehabilitation Hospital at Pease in Portsmouth, designed by JSA Inc. of Portsmouth. The contractor was North Branch Construction.Also at the 28th annual awards event: • The 2012 Clinton Sheerr Award for Excellence in New Hampshire Architecture was presented to James Somes, founder of the architecture firm JSA Inc., Portsmouth. The Sheerr Award honors and promotes New Hampshire architects and their architecture that exemplify excellence in design at the highest level. In presenting the award, architect Patricia Sherman noted that "he saw the profession of architecture as a way to bring generosity and collaboration into the competitive business of architecture. Success was the common denominator in all of Jim's efforts, but not for himself. He treated his clients as partners in successful projects. He treated his peers as friends even though they were competing for the same job. If you were a young person interested in architecture he found you a job, usually in his own office. He mentored his employees and encouraged them to start their own businesses." • AIANH named Linda Ray Wilson an honorary member, an award bestowed on non-architects who have given distinguished service to the profession of architecture or to the arts and sciences related to architecture within the state of New Hampshire. Wilson was recognized for her outstanding work and dedication in steadfastly preserving, protecting, and honoring the built environment of New Hampshire. • Winners of the Intern/Young Architect Design Competition were also recognized. Adam Lemire of LineSync Architecture in Wilmington, Vt., took home first place. Andrew M. Queen, of Washington, N.H., and an employee at Pro Con Inc., Manchester, and Nathan Stolarz AIA of Medford, Mass., who worked at TMS Architects in Portsmouth for six years and is now employed at Prellwitz/Chilinski Associates in Cambridge, Mass., tied for second place.