European sales fuel surge in exports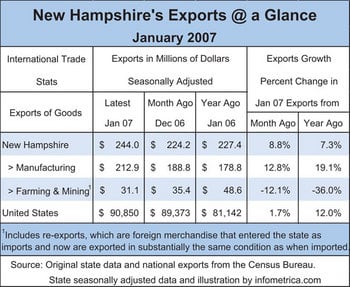 As 2007 dawned, New Hampshire exporters saw solid gains in foreign sales as overseas shipments of Granite State-made products leaped by 8.8 percent in January to $244 million.
The January export surge — the largest increase in the last 30 months — brought state exports to their third highest mark on record.
With manufactured goods accounting for 87 percent of all state exports, foreign shipments from New Hampshire's manufacturers increased in January by 12.8 percent from the previous month to $212.9 million, adjusted for seasonal variation. That's $34.1 million, or 7.3 percent, higher than January 2006.
Exports of non-manufactured goods fell by 12.1 percent in January to $31.1 million, adjusted for seasonal variation. Nationally, U.S. exports of goods jumped by 1.7 percent in January to an all-time high of $90.8 billion, following a 0.4 percent increase in December.
In the last five years, one of the key developments in the international financial markets has been the realignment of major currencies, which relates to an enduring change in a currency against the dollar. The strengthening of the euro has been of main interest to state exporters.
Since January 2002, the value of the euro has jumped 47 percent against the dollar, making New Hampshire's goods cheaper in Europe's single market and giving state exporters an extra competitive advantage.
In January, businesses and consumers from the euro area bought $56 million worth of goods made in New Hampshire. A year earlier, January's shipments to euro countries rose by 17.5 percent.
At the national level, exports to the euro area accounted for 17 percent of all U.S. exports in January. After Canada, the euro area is the second-largest destination for American goods. At the state level, foreign shipments of goods from New Hampshire to the euro area accounted for 24.2 percent of all state exports in January.
In January, New Hampshire ranked seventh in terms of dependence upon the economic health of the euro area and its currency, the euro.
Following years of slow economic growth, the euro area's income advanced by 2.7 percent in 2006, according to an interim forecast released in February by the European Commission. More important, the European Commission forecasts economic growth to "remain robust" in 2007, at 2.4 percent. Combined with a strong euro, the outlook for growth in the exporters' largest foreign market implies increasing opportunities for New Hampshire's companies in 2007.
Evangelos Simos, chief economist of the consulting and research firm Infometrica Inc., is editor for international affairs for the Journal of Business Forecasting, and department chair at the Whittemore School of Business & Economics at the University of New Hampshire. He can be reached at eosimos@infometrica.com.