Engineers Week 2009: honoring the profession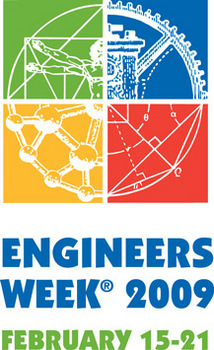 National Engineers Week is celebrated annually throughout the country in February to commemorate the birth of engineering, in recognition the birth of George Washington, the nation's first engineer.
In New Hampshire, the highlight of the weeklong celebration is the annual Awards Banquet and Engineering Trade Show, held Feb. 19 at the Radisson Hotel Manchester.
Put together by the New Hampshire Society of Professional Engineers and the Joint Committee of Engineering Societies, the evening includes a celebration of the engineering profession as well as a ceremony presenting the Engineer of the Year, Young Engineer of the Year and Outstanding Teachers awards.
This year, the evening's keynote speaker will be Joseph J. Helble, dean of the Thayer School of Engineering at Dartmouth College in Hanover.
Helble, who recently co-authored an article, "Dispelling the Myths of Holistic Engineering," in the National Society of Professional Engineers' PE Magazine, will provide an overview of current research and achievements at the Thayer School and also discuss Dartmouth's approach to educating the profession. He also will discuss his views of "holistic engineering" and teaching leaders as engineers in the profession.
The evening will begin at 5:30 p.m. with an exhibit by vendors and a social gathering, followed by dinner, presentations and the speaker at 7 p.m.
For more information about the event, contact Craig Bailey at ctbailey@bailey-associates.com or Roch Larochelle at rlarochelle@cmaengineers.com.
Other events will also be held around the state and country to commemorate the week, which runs from Feb. 15-21.
The national events are overseen by the National Engineers Week Foundation — a coalition of more than 100 professional societies, corporations and government agencies – which is dedicated to ensuring a diverse and well-educated future engineering workforce by increasing understanding of and interest in engineering and technology careers among young students and by promoting pre-college literacy in math and science.
Engineers Week also raises public understanding and appreciation of engineers' contributions to society.
Among the events planned for 2009 are:
• "Design Squad," which includes a national invention contest, new resources and trainings for volunteers and special work with after-school organizations. Engineers Week partners worked with WGBH-Boston to develop and deploy hundreds of volunteers and dozens of trainings and special events for the launch of the PBS television reality show in 2007. The show, accompanying Web site and outreach campaign targets 9- to 12-year-olds and is part reality competition, all engineering and fun.
• Future City Competition, a program that has been established at 38 regional sites across the United States and is being copied in Japan, India, Sweden and Egypt. Middle-school students work with teachers and volunteer engineers to build computer and three-dimensional scale models of cities of tomorrow. At regional competitions in January, the teams present their designs before a panel of engineer judges. First-place regional teams win a trip to Washington for national finals during Engineers Week.
• Cyberchase, a popular math adventure for young children produced by WNET, the PBS station in New York City. Engineers Week partners receive specially produced resource kits to "join the Cyberchase" and make the engineering connection with young children. Previous seasons and materials have focused on inventing, building and engineering.
• National Engineers Week Foundation Diversity Council, a formal alliance of engineering and diversity organizations dedicated to promoting and advancing diversity in engineering.
• DiscoverE, involving more than 45,000 engineers working with 5.5 million students and teachers in elementary through secondary schools around the country through classroom visits and extracurricular programs.
• Introduce a Girl to Engineering Day (Feb. 19), which allows thousands of women engineers, with support from their male counterparts, to directly mentor more than a million girls and young women in K-12 with firsthand experiences in engineering.
• Global Marathon For, By and About Women in Engineering, which takes place in March. During a continuous 24-hour period, 48 "events" take place via live Internet chats, telephone conversations and webcasts from points originating around the globe.
• New Faces of Engineering, recognizing young engineers who have been in the workplace five years or fewer and have shown outstanding abilities in projects that have a significant impact on public welfare or further professional development and growth.