Energy experts look to sustainability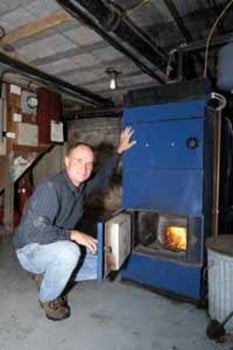 State officials and business leaders are worried about the long-term harm to profits, family discretionary spending and consumer demand posed by record-high energy costs. But experts say high oil, propane, natural gas and electricity costs are here to stay until consumers and energy suppliers wean themselves from imported oil and natural gas.
Joe Broyles, who manages the state's energy program, said the world produces 84 million barrels of crude oil a day.
"Refining capacity exceeds that by maybe 1 to 1.5 million," he explained, "and the U.S. only has 2 percent of the known oil reserves. That's the problem. And it's no longer just ours for the buying. It goes to the highest bidder, with no regulation on price."
In its mid-October pricing forecast, the U.S. Department of Energy assumed a steady recovery from Hurricanes Katrina and Rita and normal temperatures through spring. Average homeowners across the country would then spend an extra $350 this season for natural gas, $378 more for oil, $325 for more propane, and $38 more for electricity, according to the feds. But in the Northeast, oil bills will rise by an estimated 30 percent.
As of Oct. 11 three oil refineries were still shut down from Katrina and four from Rita. A score of natural gas processing plants remained off line in the ravaged Gulf region. But gasoline prices figure to stabilize this fall and perhaps drop by about 30 cents a gallon come spring.
Bob Garside heads the Oil Heat Council, which has 140 suppliers statewide and 70 closely related firms.
"Natural gas is up 70 percent from last year," he said. "Oil is up from $35 or $40 a barrel to $67 or $68 lately. Wood has doubled to $300 a cord. Gasoline is so high because we haven't built any refineries in 20 years. Nobody wants one in their backyard. Our capacity is maxed out."
He said the hurricanes temporarily shut down 4,000 drilling rigs in the Gulf, blowing some of them right off their platforms. The flooding knocked out the main pipeline from the region. By his account, delivery trucks have to wait at the terminals in Portsmouth Harbor for three hours to get product.
Then there's the demand for energy from other nations.
"China has a tremendous thirst for oil," he said.
Mike Giaimo watches the energy sector for the Business and Industry Association of New Hampshire. In focus groups and surveys this summer, BIA members said they're deeply worried about energy costs – a line item that, on average, absorbs nearly 6 percent of sales revenue.
Giaimo said one member with plants around the country reported half the energy costs per unit of product elsewhere. Other multi-state firms are telling him similar stories.
"The pre-eminent fear is that these costs could stifle existing businesses and could trickle down into job losses," Giaimo said. "At what point will it make sense to shift production to another state or country?"
Stuart Arnett, the state's director of economic development, agreed that the issue is national and international.
"The early indications remind us of what we saw a couple of years ago with the rise in health-care premiums," he said. "Businesses might defer capital spending, because more money is going to energy needs. And the situation creates uncertainty. What we can do best is help them reach new markets and suppliers. And we have an active energy conservation program."
New capacity needed
Maryann Mangoonian, who heads the state's Office of Energy and Planning, said citizens should watch the example of state government as it learns how to save 10 percent on energy costs in the next year under an executive order from Gov. John Lynch in July.
"We're seeing the highest prices in years," she said. "We actually have the most fuel inventory we've ever had going into this winter, but supply and demand are subject to natural disasters and geopolitical forces we have no control over."
Mangoonian wants all the agencies that regulate power to streamline and clarify their rules to make it easier to construct new electric generating capacity.
"And we're going to build a clean fleet of state vehicles that get at least 27.5 miles per gallon," Mangoonian said. "We'll look at long-term operating costs when we design a building. The cheapest construction cost isn't the only factor."
Meanwhile, Unitil has won approval for a 60 percent rate hike for its major customers. Anne Ross, the state's consumer advocate, had to make sure the Unitil rate hike was fair to ratepayers.
"It was a bit of a fluke," she said. "Right before Katrina, they went out to bids on a contract that lasts until April. But none of us are hopeful the rate will down come very far on their long term price."
Expecting the energy crunch, Laura Richardson of Pike revived the dormant Sustainable Energy Association a couple of years ago. She serves as its president, and lobbies for an energy policy that grows the fuel we need.
A highly efficient Tarm wood gasifier built by a Danish firm heats her whole house for three to five wood cords a year. It burns like a regular wood stove, but a fan blows the exhaust gases through a second combustion chamber that refires them to 2,000 degrees. The system warms a 600-gallon water chamber in the basement to store heat. The boiler is in a shed, and the water comes to the house through insulated pipes underground.
The backup heat is propane and wood pellets. A reservoir can feed the wood sandwiches a bite or two at a time into the firebox when the family goes away for a couple of weeks.
"It's fabulous," Richardson said. "The whole investment was maybe ten grand. Our heat is free except for the elbow grease to harvest the wood stand on our property."
Richardson likes geothermal energy too, but thinks it's best for institutions because the investment can be pretty steep. That's the new technology the Merrimack County Nursing Home is using to heat and air condition the whole facility. Experts say it pays for itself in two to 10 years — the bigger the building, the faster the return.
Changing technology
State geologist Dave Wunsch is looking at a chance for some deep savings, 20,000 feet into hot rock. The two best sites for a steam plant that taps into ancient volcanoes are in the Bartlett/Mount Washington area and in the ancient ring dike surrounding the Ossipee Mountains. Lakes Winnipesaukee and Squam are in the valley of this former volcano.
Back in 1981, U.S. Sen. Judd Gregg, then a congressman, came close to getting federal funds for a 100-megawatt power plant in Bartlett. The demonstration project fell through and ended up at Los Alamos. That's where the feeder pit could be 10,000 or 15,000 feet deep into the side of a sleeping volcano known to be real hot.
Rep. Gene Chandler, R-Bartlett, recalls the episode.
"The idea was to pump cold water into these fissures in the granite way down there," he said. "They'd get steam coming out. But until we refine the technology, the expense is tremendous. It was exciting at the time."
Rep. Sam Cataldo, R-Farmington, a nuclear engineer, is preparing the final reports for two summer-long study committees that looked at alternative energy sources. He dreams of emission-free cars, of solar panels on south-facing roofs and wind blades on hillsides.
"In a few years, vehicles won't be using petroleum at all," he predicted. "It can all be electric or nuclear."
Cataldo also hopes the state can make biodiesel more competitive. Engineers can distill it from corn, soy or even used restaurant cooking oil. The stuff used to cost a buck more than regular diesel, but the price gap is closing fast, thanks to the otherwise unwelcome oil shortage and some federal incentives. Experts say a truck can handle a mix of 20 percent biodiesel, even in winter. Oil furnaces can accept roughly 5 percent biodiesel before it clogs the nozzles.