Elliot, Southern NH eye regional system
Efficiency, cost control is goal of joint effort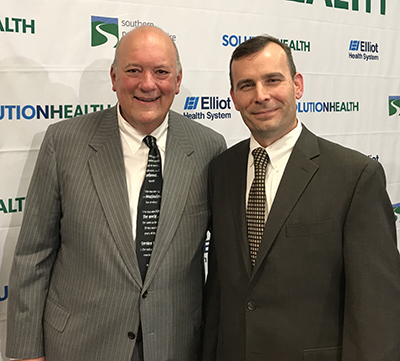 Officials of Elliot Health System, which includes the 296-bed Elliot Hospital in Manchester, and Southern New Hampshire Health, which includes the 188-bed Southern New Hampshire Medical Center in Nashua, have signed an agreement to create SolutionHealth, a new regional system that they say will lead to better access and care.
They said the agreement, which goes to the attorney general's office for a four-month review, will boost efficiency and innovation and help control costs.
In a joint statement, Elliot President and CEO Doug Dean and Southern New Hampshire President and CEO Mike Rose said their goal is to create "a regional, New Hampshire-based solution for the unique and increasingly complex challenges facing health care providers in our state."
They added that their "commitment" is to create a "community-based regional health care network that will enhance access to affordable care while ensuring quality of care delivered throughout southern New Hampshire."
Rose added that the agreement allows the systems to collaborate and share best practices and information technology, develop and expand specialties and improve their access to financial capital.
"This, I think, is going to allow both of us, both our institutions to continue to serve our communities, to enhance the ability to satisfy our mission and our ability to elevate the range and capability to provide health care to our citizens, not only in our communities but in a broader region," said Jim Hood, chair of Elliot's board of directors.
The hospitals will keep their names and governance structure, with a new board appointed to oversee the regional system. During the review period, clinicians will begin coming up with a list of priorities. Officials said they expect some of the initial changes and improvements to focus on behavioral health.
Elliot Health System had previously explored an affiliation with the state's largest health system, Dartmouth-Hitchcock, and before that with Catholic Medical Center. In January, the state gave final approval to GraniteOne Health, a system that includes Catholic Medical Center in Manchester, Huggins Hospital in Wolfeboro and Monadnock Community Hospital in Peterborough.
Under the proposal, SolutionHealth would have a 10-member board of governors, five each from Elliot and Southern New Hampshire.
Elliot trustees named to the new board are: Howard Brodsky, John Hession, Lawrence Hoepp, Dr. Stephen Loosigian and Dianne Mercier. Southern New Hampshire trustees named to the new board are: Clifford Kinghorn, Martha O'Neill, James Steiner, Praveen K. Suchdev and Timothy Sullivan.
Information about the new system can be found at the website previously created by Elliot and Southern New Hampshire, nhregionalhealthcare.org.