Elliot Hospital uses virtual reality in design of urgent care center
Architecture firm E4H says technology shortens feedback loop and saves money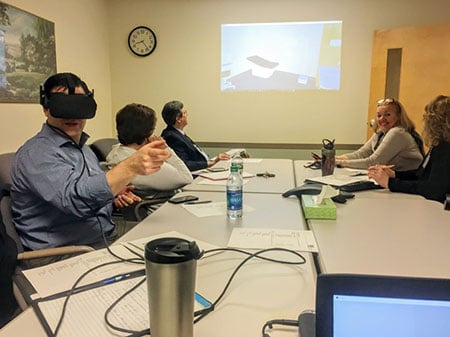 Virtual reality is proving particularly helpful in designing medical spaces, as illustrated by Elliot Hospital's use of VR during the final design development review of its new Urgent Care Center.
Elliot Hospital hired Boston-based E4H Environments for Health Architecture, which has been using virtual reality for two years to deliver their designs. The firm uses its own software to build a 3D model that connects to IrisVr's Prospect software, enabling design changes to be made live during group consultations using VR.
"We're able to project the image while one person is viewing it through the VR headset," said Jason Carney, partner at E4H. "[Other people in the room can see the projected image and] talk with the person using the VR simulation, asking them to look at objects for their impression of the space on the screen. It's a way to involve more people in that experience. Prior to that, we had used a portable version where we were able to render high-quality images of spaces and the viewers could look around those spaces, but they couldn't move within them."
While working with Elliot, E4H gathered feedback on equipment locations, casework configurations, outlet quantities and furniture arrangement.
Being able to experience the space in virtual reality is particularly important for health care professionals, who work with a lot of equipment and need to know their line of sight and communication with other professionals, said Carney.
"It's important to understand what the physical attributes of the space are but also the placement of equipment and items around the room so the physician and nurses and staff understand where will be located round the room. If I'm a nurse at a patient's side and the patient begins to experience trouble, who am I going to be able to see, what are my sight lines, my communication lines? That is very hard to convey to someone through 2D images and drawings and to people who are not spatially oriented. VR bridges that gap," said Carney.
E4H has found that the experiential technology shortens the feedback loop and saves both the firm and the client money. Carney says oftentimes hospitals will spend money on physical mockups of spaces for medical professionals to examine. Virtual reality eliminates the need for those, he said.
"The complex spaces are where it really stands out. An operating room has surgical light booms and if we do interventional lab we'll have imaging equipment hung from the ceiling — all sorts of things that are hard to convey in a flat image. You need to look at that in 3D in VR to see where all the pieces are and [how they] interact with the space," explained Carney. "I had an experience where I was working in design sessions with users for a complicated neurointerventional space and they were having trouble picturing where equipment would be in the room. They looked at it through VR one time and understood it completely. One VR experience answered all of their questions, they immediately understood the space, they could tell me what things needed to be adjustment and we were done. VR catapults the understanding to a great degree."