Electronic records help cure physicians' charting ills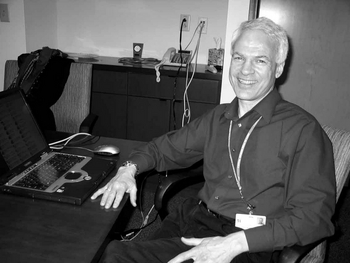 The task of deciphering a doctor's handwriting is quickly becoming a thing of the past as electronic medical records take hold at many physicians' offices and hospitals across the state.
Also known as EMRs, the computer systems allow doctors and other authorized health-care providers to enter information — such as lab results, blood pressure and medications — into an electronic form of a chart, making the information instantaneously accessible and secure.
Medical offices in the Concord area in particular have become increasingly wired over the last decade as Concord Hospital and its associated physicians' practices implement EMRs.
"It really took on a life of its own," said Deane Morrison, chief information technology officer at Concord Hospital.
Today, Morrison estimated, 95 percent of family practitioners and internists in the Concord area, and up to 30 percent of specialists, are using EMRs.
Physicians at Concord Hospital use the Centricity system by General Electric, which enables them to get access to their patients' records anywhere in the hospital, their offices, their homes or anyplace where a laptop or computer can access the Internet.
Doctors in the Elliot Physicians Network in Manchester have used another EMR, the Epic system, for over five years. The goal was not only to streamline information, but to have a mechanism for judging how well the health system was taking care of its patients.
Dr. Samuel Goldman, a physician at the Elliot Senior Care Center, said Epic's efficiency has been just what the doctor ordered. "Many of my patients are 80, 85 years old. Just imagine 80 years of paper charts and you get an idea of what we could have been facing," said Goldman.
Smooth sailing
Elliot Hospital completed the first phase of implementing the Epic system last fall. It was a process that took about 18 months, said Denise Purington, Elliot's chief information officer and a registered nurse.
Before implementing Epic, Elliot, like most hospitals, had an enormous paper trail to contend with, said Purington. "The physician would have his paper record. If the patient went to the emergency department, the E.D. physician would not know what kind of care the patient was receiving from his or her doctor. If the patient was admitted to the hospital, the floor nurses would have to locate separate records from the E.D. Now the family physician, E.D. physician and appropriate hospital staff can all see the same record."
When a system of the breadth of Epic goes live, IT administrators generally experience a number of sleepless nights. The fact that Elliot's implementation went smoothly, with minimal issues, came as a surprise to Purington.
"We were actually able to send the implementation team from Epic home a week early," she said.
Certain advantages of using an EMR system were apparent right away, said Purington.
"A child came into our Emergency Department. The pediatrician from his home and the E.D. physician were able to access the same record at the same time, providing far more effective care than they could if the records were still on paper. The pediatrician was able to monitor the child from his own home throughout the event," she said.
A system like Epic or Centricity also can save time by eliminating the need to write repetitive orders.
"When I do discharge planning, I may write the same medication instructions 20 times a day. You can create speed entries to do that for you so you don't have to write it all out each time," said Dr. Gregory Baxter, medical director of the emergency department at Elliot Hospital.
Other benefits
While the entire Epic project at Elliot cost upwards of $20 million, according to Purington's estimate, the savings it brings are even more substantial.
"We can treat the patient much more promptly and effectively. We can see what medications the family doctor has prescribed, so medication errors are much more preventable," said Purington.
Another important component of an EMR is the ability to warn a health-care provider of drug interactions.
"Say I have a patient on the blood thinner Coumadin. If I tried to prescribe the sulfa antibiotic Bactrim, for example, I would get a pop-up warning that this could enhance the patient's bleeding," explained Dr. Joel Berman, a family practitioner at Penacook Family Practice and a member of Concord Hospital's medical staff, who installed the Centricity system at his group practice office in 2000. "This is available right out of the box."
He related another incident that occurred shortly after the arthritis drug Vioxx was pulled from the market in 2004.
"We received the drug recall notification at 9 in the morning. By 4:30 that afternoon, we were able to identify all the patients on Vioxx and have a letter typed up and sent to every affected patient. There would have been no way to identify all these individuals with paper charts," said Berman.
EMRs also have longer-range benefits that would be very difficult, if not impossible, to realize with paper charts.
By capturing a wealth of data, more sophisticated reports can be generated. "Use of the system is still in its infancy, but we can already see our performance and track disease management," said Elliot's Baxter.
Berman and the physicians at his group practice used their system to gather data on health-care quality.
"We decided to work towards attaining NCQA recognition for diabetes management. To do so, you have to reach certain national benchmarks in patient care. When the first reports were created for each individual provider, the results were not pretty at first," said Berman. "There was a big dose of reality. This was internally generated clinical data, not data based on claims. Clinical databases have credibility with providers."
After the initial shock and learning curves passed, all of the practitioners in Berman's group achieved NCQA recognition for meeting best practice standards for diabetes management — just 10 months after implementing the system.
Of course, a paperless chart system is not without its drawbacks.
One drawback is that information from other hospital systems must still be entered manually if there is no data-sharing interface between the two computer systems.
"Interoperability issues in general are a problem," said Berman. "I can get my labs to auto-populate the EMR, but a colonoscopy I may have to enter in manually. The medication order/entry system at the hospital is not interfaced with Centricity."
Beyond technical issues, the face-to-face contact between the physician and the patient also can be affected.
Elliot's Goldman and Dr. Gary Sobelson, a family practitioner at Concord Family Medicine, said that many times patients will stop talking if a physician looks down at the keyboard to enter something in. Some physicians have mitigated this issue by using laptops or hand-held computers. Others have PCs on wheeled desks or carts so providers can face their patients.
"I have the patient sit next to me," said Sobelson. "That way they can see what I'm doing and I can show them graphs and charts to answer some questions."
Morrison at Concord Hospital said, "What we are seeing is a symbiotic relationship.
The patients can watch as the physician enters the information as well as the charts and results he or she is looking at."
Berman relates an experience with a patient who asked for a new medication for her irritable bowel syndrome.
"It was a drug I didn't know about. We looked it up together, discussed it and the patient made the decision that she did indeed want to try it," he said.