Education's future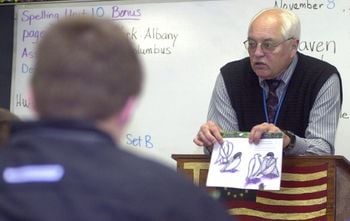 Many key players in the New Hampshire education system believe the No Child Left Behind Act, signed into law by President Bush in January 2002, is flawed. Both major teachers' unions – the National Education Association and the American Federation of Teachers – supported Sen. John Kerry nationally and locally because they thought he would reform the law.
Now, with Bush re-elected, state educators are discussing the possible impacts of another four years of No Child Left Behind as it exists.
While most agree that the law is well intentioned, they cite unfair standards, lack of proper funding and heavy-handed government regulation as its weaknesses.
However, the law does have its supporters. Some educators say it's a step in the right direction because it holds schools accountable for every student's success.
Jackie McKnight, president of the Nashua Teachers Union, isn't one of them. She is frustrated by No Child Left Behind because schools that show improvement from one year to the next still can be considered failing under the law's standards.
McKnight said if the law's requirements become increasingly difficult, as the mandate says they will, fewer and fewer schools will be viewed as successful in the coming years.
"I see it as no school left standing," McKnight said. "Our schools are being set up to fail."
No Child Left Behind is a plan to increase academic testing, invest in literary programs and give parents the opportunity to place their children in better schools.
The law requires students in nearly every grade level to take a standardized assessment test each year. In order for a school to meet the goal of adequate yearly progress, every subgroup of students in the school must pass the test. If a school does not pass two years in a row, parents can decide to move their children to another school.
Terry Shumaker, executive director of NEA New Hampshire, thinks governors will demand that Bush alter No Child Left Behind during this term. He said the law, as it stands today, undermines public schools.
"Everybody who knows anything about public education thinks the law needs to be reformed," Shumaker said.
The law is flawed because states should determine how schools are run, and the federal mandates are underfunded, Shumaker said.
By Shumaker's estimates, it's going to cost schools $10 for every $1 the federal government provides to maintain what he calls the largest federal intrusion into schools in recent history. The money to support No Child Left Behind is going to have to come from property taxes, Shumaker said, which will make local citizens angry.
"Will they be mad at George Bush and the Congress? No. They'll be mad at the local school boards," Shumaker said.
But Fred Bramante, chairman of the state Board of Education, thinks No Child Left Behind is a step in the right direction because it holds schools accountable for their students' achievement.
He said the law is really just a continuation of Lyndon Johnson's 1965 Elementary and Secondary Education Act. The Bush administration simply incorporated the accountability factor into the law, Bramante said. Holding schools accountable for student progress is important, he said.
Bramante said some components of the law will likely be changed in the coming years because a school's entire population can be labeled failing even if the majority of students pass the test.
However, he added, No Child Left Behind is an improvement on the old law because it ensures that no group of students is ignored.
"They are looking hard at these populations and that's great," Bramante said.
Getting political
The NEA recommended Kerry for the presidency because the union's leaders believed he would have made providing adequate funding for No Child Left Behind a priority.
Laura Hainey, president of the New Hampshire Federation of Teachers, doesn't expect to see more federal funding in the next four years because she doesn't think it is a priority of the Bush administration.
If Kerry had been elected, he would have pushed for more funding and directly involved educators in the reform process, Hainey said. The AFT supported Kerry because of his voting record in education.
"If you look at the issues that are important to us, 97 percent of the time he voted for them," Hainey said.
Charlie Reynolds, a special education teacher at Broad Street Elementary School in Nashua, said he is not opposed to fair standards, but he says the standards in No Child Left Behind are not fair.
"I think it's very unfair and underfunded," Reynolds said.
It is not fair that students with special needs are required to take the same test, under the same conditions, as other students, Reynolds said.
He has altered the way he teaches because many of his students have attention deficit/hyperactivity disorder. He often breaks lessons into smaller chunks because children with AD/HD cannot pay attention for long periods of time.
However, the standardized tests given under No Child Left Behind are timed, and Reynolds is not allowed to break them into smaller pieces for his students. Because of that, he said, the test makes it harder for special-needs children to succeed.
Broad Street students made adequate yearly progress this year in every area except for special education.
Reynolds also said it is not fair that schools have no choice but to abide by the federal law's standards.
"If a state chooses not to go with No Child Left Behind, they get all of their funding taken away," Reynolds said. "If that was done locally, I think it would be called extortion."
Birch Hill Elementary School suffered a similar fate as Broad Street. This year, the school failed to make adequate yearly progress despite years of higher-than-average test scores.
John Richard, principal of Birch Hill, said the intentions behind the law are good, but its requirements are difficult for even the top schools in the state to meet.
"The idea of seeking to improve your schools is admirable," Richard said. "It keeps everybody up and involved."
What he doesn't like is that all students are required to take the same test. He said students in the English as a Second Language program, for example, should not take the same test as students who have been speaking English all their lives.
Richard also said he expects the law to change in the next few years because many well-known, reputable schools are not meeting the requirements.
Exposing achievement gaps
State Education Commissioner Nicholas Donohue believes the intention of the law is positive because schools have not been serving all students equally.
"I'm not sorry that it's pushed us through a doorway in school accountability," Donohue said.
However, Donohue said some of the measures for implementing the law have been problematic. Donohue would like to see the program focus more on honoring progress and less on the results of a single test.
The law has already spurred some improvement because its implementation has provided a greater understanding of how to measure the progress of ESL and special education children, Donohue said.
For example, the federal testing program has shown wide achievement gaps between students of different races and with different family incomes. Equipped with that information, schools can begin to close those gaps, he said.
Republican state Sen.-elect Peter Bragdon, a member of the Milford School Board, supports the idea of No Child Left Behind, but would like to see the law have more flexibility. He said some of the goals of the program are unrealistic.
"We can't punish people because they're at 99.9 percent," Bragdon said.
The program is not as flexible as it should be, Bragdon said, because it is controlled from the top down. It allows the federal government to interfere in local schools more than is necessary, he added.
Bragdon said the law is something school districts and school boards should have been working toward before it was implemented by the federal government.
Even though he sees room for improvement in the law, Bragdon does not see it as an unfunded mandate because it has not had a major financial impact on Milford.
He said school districts simply have to reprioritize to provide funding for the well-intentioned programs.
For teachers like Reynolds, funding is not the issue. The issue is that the law is shortsighted and does not help students or schools in the long run, he said.
"Sooner or later, every school will fail," Reynolds said.