Economic indicator remains flat in February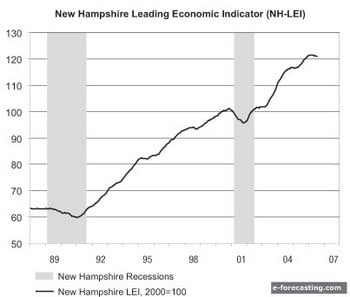 The composite New Hampshire index of state leading indicators, which is produced jointly by the private forecasting service e-forcasting.com and New Hampshire Business Review, stayed flat in February, with no change. There was also no change in the index during January as well.
According to Evangelos Otto Simos, chief economist of e-forecasting.com as well as the consulting and research firm Infometrica Inc. and department chair at the Whittemore School of Business & Economics at the University of New Hampshire, four of the eight components that make up New Hampshire's leading indicator had a positive contribution in February: manufacturing exports; regional consumer expectations; stock prices; and diffusion of technology.
Simos said four of the eight components had a negative contribution to the NHBR/e-forecasting.com leading indicator in February: unemployment claims; weekly hours in manufacturing, building permits; and national financial yield curve.
Simos said that, looking at its six-month growth rate — a signal of turning points — the NHBR/e-forecasting.com N.H. Leading Indicator fell by an annual rate of 1.6 percent in February, following a decrease of 1.8 percent in December. This compares to a long-term annual growth rate of 3.9 percent, the same as the annual growth rate of the state's overall economic activity.