East Point gives businesses everything they need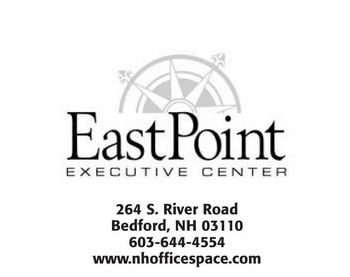 When a fire last September left businesses at 164 S. River Road without a corporate home, the Bedford companies did not have far to go. Phenix Title Services, Stewart Title Guaranty and Hubbard & Quinn all moved a short distance down the road to the East Point Executive Center, where they found suitable office space to lease the very next day.
"The fire happened Thursday night," Kim Reagan, East Point's director of marketing and sales, recalled. "We put them in offices here at East Point, and they were working by lunchtime on Friday. It saved their business. Otherwise they would have had four months of downtime without a home. And 35 people would have been out of work temporarily."
"It wasn't like going into a building where you'd have to bring in your own desks and equipment," said Roger Maurier, administrative and legal assistant at Stewart. "The desks and phones were there, there were outlets for our computers. It was a good arrangement. We had to be up and running, so luckily the offices came well equipped for business. We had everything that we needed."
At East Point, that's the whole idea, said Reagan.
"We offer office suites with a receptionist, conference rooms, meeting areas. It's a regular office environment without having to go out and lease a large space."
At its 17,500-square-foot facility in Bedford, East Point has room for about 63 suites at any one time. The East Point Executive Center in Nashua can accommodate 22 suites. Each site offers plenty of parking space and the building is accessible to the tenants 24 hours a day.
"It's a real mix," Reagan said of the tenants. "We have folks who own their own businesses, and we get regional representatives of large national corporations."
East Point, which celebrated its fourth anniversary this year, is flexible enough to offer both long- and short-term leases to meet clients' needs.
While the companies who moved in after the fire needed a temporary home for four months, "other tenants have been with us since the day we opened," said Reagan.
Those who rent space at East Point don't have to wonder where the landlord is should a problem arise.
"We own the building," said Reagan. "We have our own plumber, our own electricians, our own maintenance crew," said Reagan. "Our mission everyday is to take care of this office building so the clients can concentrate on growing their business."
Some have grown quite impressively. "We're a very good stepping stone," Reagan said.
One company that got its start at East Point is Keller Williams Realty Metropolitan, a franchise bought a few years ago by Bill Weidacher and Alan Rice.
"We were two guys with a laptop," said Weidacher, recalling the day they moved into East Point in December 2004. Now the franchise has 50 employees at its own site, about a mile up the road from its former home at East Point.
"It's a great facility in which to incubate a brand new business without capitalizing yourself," said Weidacher.
The NHBR Business Profiles section contains content provided by New Hampshire Business Review advertisers.