DWC program helps firm meet marketing challenges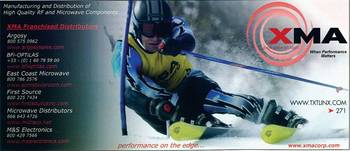 When XMA Corporation – a Manchester-based provider of radio frequency and microwave products – sought to beef up its marketing efforts, it found what turned out to be a perfect match with a group of Daniel Webster College students.
Dave Crocker, XMA's vice president and general manager, had the idea of augmenting his lean organization – which doesn't have its own in-house marketing group – by teaming up with college students to conduct research, evaluate the competition and make marketing strategy recommendations.
After contacting 15 New Hampshire colleges offering business or marketing degrees, Crocker said DWC was the "obvious choice" to fill his needs because of the college's "strong focus on experiential education as a key ingredient to a well-rounded education, coupled with an open-minded flexibility towards forming new, creative partnerships with industry."
DWC students in the upper-level marketing course spend 50 percent of their time on classroom work and 50 percent working on companies' actual marketing problems. It's not an internship, nor is it a classroom activity. The student consultants work for a real client with guidance from Daniel Webster faculty. 
And work they did at XMA, spending hours of their own time in three groups to research, plan and execute that plan to meet the challenges that the Manchester firm faced.
"Functioning as a real company, we learned the demands you will be faced with in the 'real world' and how meeting the need of the customer is most important," said junior Erin Moseley. "Although we were young and inexperienced, we approached the task head-on. Originally asked to only propose a marketing plan, we became so involved with it all that we ended up following through with its implementation even after the semester ended."
Led by Professor Neil Parmenter, the marketing firm created by the students, Eagle Marketing Consulting, developed and presented a marketing plan for XMA and, working with XMA, designed a four-color advertisement that focused on brand recognition and company differentiation. The ad is currently running in two radio frequency and microwave industry publications.
The students also proposed a new Web site concept and implemented an interim Web site upgrade.
"This is a unique partnering where our students couldn't get a better understanding of real world business practices," said Parmenter, pointing to the opportunity of allowing students take the marketing theories they learn in class and apply them to solve actual problems.
XMA also was pleased with the result.
"This successful first step towards a much broader teaming relationship between XMA Corporation and Daniel Webster College provides powerful evidence of one way to achieve the next generation of experiential educational opportunities for tomorrow's business leaders, while at the same time enhancing the productivity of U.S. businesses," said Crocker.