Downtown Portsmouth property sold for $8 million
Mixed-use development to be built on site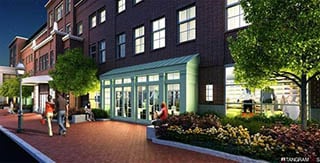 The property that formerly housed the Portsmouth Herald newspaper at 111 Maplewood Ave. in the Port City Portsmouth has been acquired for $8 million by R.J. Finlay & Company of Nashua.
Seller was Stratham developer Nancy Conway.
R.J. Finlay is a development firm with holdings nationwide. In New Hampshire, its properties include Bedford Crossing in Bedford, One Liberty Lane in Hampton and 30 Temple St. in Nashua.
The Portsmouth Herald reported the sale paves the way for a mixed-use development at the site. The building has already been renovated and the new mixed-use development will be built where a parking lot now sits on the north side of the existing building and the lawn adjacent to it, architect Lisa DeStefano told the newspaper.
The four-story project will feature some 14,000 square feet of commercial, retail or restaurant use on the first floor, with about 77,000 square feet of residential space taking up the top three floors.