Downtown housing boom didn't pan out as many hoped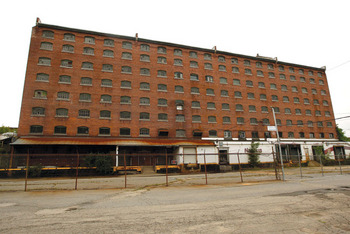 Just three years ago, when the economy was booming, genuine excitement was bubbling up about a different kind of downtown Nashua. Many predicted downtown would soon be more than just a place to drop in and browse cute shops or grab dinner at a high-end restaurant before driving back to suburbia. It would be a true urban core, a place where people actually wanted to live.
The reality, however, has hardly lived up to the hype.
In 2006, there were 10 condominium or apartment building projects under way or in the planning stages. Nashua was poised to welcome more than 700 new housing units downtown.
But only a handful of these projects were completed. And those that were have faced lackluster sales.
Most local development experts blame the lull solely on the recession. After all, the credit markets have dried up, making it difficult for developers to get funding. The real-estate market is slow, making it tough for those who want to move downtown to get a loan or sell their current homes.
"It's a timing issue. Downtown Nashua will still be a viable, attractive place for people to not only to invest, but enjoy," said John Stabile, one of the city's best known developers. "We just have to wait out the cycle."
But questions remain about whether the idea of living downtown is appealing to the masses in a city such as Nashua, one that looks more like a bedroom community than a bustling metropolis.
Many of the projects planned by 2006 were luxury condos priced upward of $300,000. That's one-third higher than the average price of a home in Nashua, including places where crime is lower and parking is plentiful.
In the first quarter of 2009, the average sale price for a home in Nashua was $208,500.
Praise – and criticism
An out-of-towner's impression of the neighborhood around Jackson Falls, the luxury condo building across the street from Railroad Square, would depend on which side of the three-story building they stood.
On one side, the neighborhood is serene, with riverfront views and a walkway that follows the Nashua River. The building is a short walk to the public library or Peddler's Daughter, the popular Irish pub.
On the other side, the city shows its underbelly. There are railroad tracks and a busy Dunkin' Donuts parking lot that doubles as a local hangout. The nearest building, home to Cattleman's Sandwich Shop and Saloon, a Laundromat and a vacant storefront, was condemned by the city last week.
Jackson Falls is one of just three apartment or condo buildings to come to fruition since the downtown housing boom was predicted in 2006. Those projects resulted in a total of 122 new units downtown, less than 20 percent of what was expected.
This figure does not include several small projects for low-income renters, veterans and the elderly that were planned by social service agencies like Harbor Homes and Southern New Hampshire Services, rather than private developers.
When construction began on Jackson Falls in 2006, it was the first upscale housing project downtown in decades. But three years later, only 12 of 22 have sold, at an average price of $340,000.
The second project to be completed was Lake Street Terrace Townhomes, 10 upscale condos at the corner of Main and Lake streets, and the third was Palm Square, 140 units of senior housing in the old Batesville Casket Co. building, situated in the Tree Streets.
Lake Street Terrace was built where two dilapidated homes once stood. The condos feature rooftop decks, and prices start at $300,000, sans luxury upgrades such as granite counters and cherry floors. The project has both been praised for improving the neighborhood and criticized for its price and location.
"Who in their right mind would pay 300k to live in downtown Nashua?" one online commenter wrote when The Telegraph first published a story about the project in August of 2008.
"Who would like to live behind a gas station and behind a funeral home?" another asked.
To date, none of the condos have sold.
Commenting on both Jackson Falls and Lake Terrace, Ken Ashcraft wrote: "I guess the new chic thing is to put expensive condos smack in the middle of bad neighborhoods."
Palm Square, which opened this spring, is a bit of a different story because the units are rentals, which tend to be less affected by the state of the economy. Units are priced between $650 and $1,250 a month. As of late June, 40 of 140 were occupied.
Falling in line with the first two developments, the project has been met with glowing praise for breathing new life into a rundown neighborhood, as well as criticism for its undesirable location.
But local developers and planners dismiss the idea that the neighborhoods act as a deterrent for potential buyers or renters.
William "Angus" Bruce, developer of Jackson Falls, stands by his $6 million investment.
"I think people from bigger cities look at Nashua and say, 'They don't know what a bad area is,' " said Bruce, a Massachusetts resident with offices in Hampton. "I don't see that they're bad neighborhoods."
When he was considering buying the lot, Bruce said, he walked the neighborhood at night just to make sure it was safe.
Jay Minkarah, the city's former economic development director, who was at the helm when Jackson Falls was being developed, agreed.
"I don't think that the area of Jackson Falls is perceived as undesirable," he said. "I think the real issue has been the market."
As for Lake Terrace, the lending officer who financed the project said he's surprised that the units aren't selling.
"They're not performing, which is the thing that fascinates me," said Alan Manoian, former lending and economic development officer for Hampshire First Bank.
Manoian, also well known in Nashua as the city's former assistant director of downtown development, said it's these types of developments that make downtown neighborhoods safer and more desirable.
Mario Plante, developer of Palm Square, could not be reached for comment by deadline for this story.
Busted plans
The list of downtown developments that never materialized includes several proposed redevelopments of old mill buildings.
Following the lead set by Clocktower Place, the apartment complex created out of an old mill building 20 years ago, developers were warm to the idea of revitalizing vacant industrial buildings.
The largest of the plans called for 300 condos in parts of the former Nashua Corp. mills on Franklin Street. But the developer, Ron Harper Jr., has since turned the building back over to the bank to avoid foreclosure.
Around the same time, Stabile was making plans to create 162 condos, including some "affordable" units priced at $180,000, out of the former Nashua Corp. site on Front Street, along the north bank of the Nashua River. The project was dubbed Cotton Mill Square.
Stabile, who went as far as to gain planning board approval for the condos, said he initially had institutional partners "fighting over" financing the project. Until the economy went bust, that is.
"That dried up a year and a half ago," Stabile said.
Now, Stabile is trying to sell the property and the development plans as a package. There was a tentative deal this spring, he said, but there has since been a lull in negotiations.
Among the other notable downtown development plans that went bust was developer Mark Maynard's idea to turn the former Beebe Rubber Co. at 22 Marshall St. into 80 condos with a starting price of $145,000. The project was also approved by the planning board, but never built.
Manoian said the idea of downtown living was probably more desirable around 2004 or 2005, when suburban housing prices were getting "absurd." But he believes young professionals and empty nesters will return to the idea when the real-estate market rebounds.
Roger Houston, Nashua's planning director, also blames the economy for the slowdown in downtown development since 2006.
"I think there's still a desire for people to live in the downtown area, and I think that is a national movement," he said. "I suspect some of the projects that are on hold will come back when the economy gets better."