Downtown dining guide a hot commodity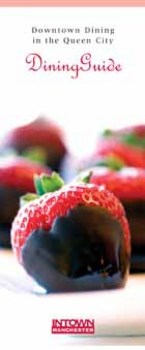 Downtown Manchester's dining scene has grown tremendously over the last few years, so to help you eat your way down Elm Street and beyond, Intown Manchester has created "Downtown Dining in the Queen City," a dining guide featuring 67 restaurants in downtown Manchester.
"This was something we had been consistently asked for by both visitors and locals," said Kate Benway of Intown Manchester. "Downtown Manchester has become a dining destination."
The 34-page book offers an alphabetical listing of the restaurants, including street address, hours of operation, phone number, Web address, price range and a brief description. There also is a convenient index listing the restaurants by cuisine as well as a separate phone listing.
The guide is sized to fit easily in a glove compartment or purse.
Benway said the response to the guide has been amazing. "We printed 10,000 copies and delivered them to local restaurants before lunch. Several restaurants were already down to just a handful at the end of the day," she said.
Intown Manchester is planning on updating and adding to the guide, perhaps on a yearly basis, said Benway.
"We're growing so much. The idea was to put out a solid guide, then evaluate the feedback from diners," she said.
One possible addition, besides new restaurants, may be including a map of downtown in the guide. Currently, a map of Manchester is available separately at Intown Manchester.
The dining guide is free and available at Intown Manchester, at the Manchester branches of Ocean National Bank, Citizens Bank and Bank of New Hampshire, and at downtown stores, businesses and restaurants.
The guide also is available on the Web at intownmanchester.com.