Dover waterfront development: it's been a long time coming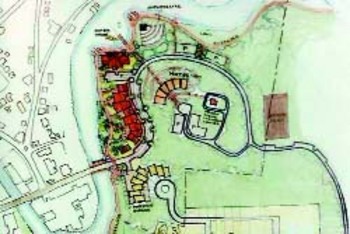 A mantra has developed in Dover that covers the breadth of hopes for the long-awaited Dover Waterfront Development project. As Beth Thompson, the city's planning director, tells it, the hope for the 35 acres or so of city-owned land along the Cocheco River can be reduced to the phrase "live, work and recreate."
Dana Lynch has another way of explaining the vision for the project, which has been two decades in the planning and even longer in the city's collective imagination. "When this is all said and done," says Lynch, chair of the recently organized Waterfront Redevelopment Committee, "we hope a lot of people in the region will say, 'We're going up to Dover.'"
What those visitors and Dover residents of the future may behold is a combination of commercial, retail, residential and recreational vitality in an area that today is void of all of the above. There is a parking lot, a city pumping station and a skateboard park. Nearby is Henry Law Park, itself the focus of citywide rehabilitation in the 1990s. There is a covered pedestrian bridge, which connects the vacant River Street side of the river with the Washington Street access to the active downtown district.
Out of context, the area under consideration is an example less of urban blight than urban indifference. Garbage mingles with large dirt mounds that have become overgrown with weeds. The river view is blocked by overgrown trees and shrubbery. A few old storage buildings and tractor trailer units sit around. It looks like a decaying inner city block one might find in most any size town.
As he gives a tour of the area to a reporter, Lynch agrees with the assessment but adds that a lot has actually happened in the past few years to speed the project along. (Lynch, a civil engineer, has been officially involved with the project since 1990. "When I started my daughter was in 2nd grade. She just graduated from college," he says.)
'Patiently enthusiastic'
Plans for the waterfront in one form or another have been made for at least two decades, if not longer. The detours have not been political as much as practical, for the redevelopment project remains a complicated undertaking. Historically, the area has been home for such orphaned facilities as the old county courthouse and jail, a wastewater treatment plant, a town dump and recycling facility, a school bus depot and public works buildings. In the past few decades, the city has managed to relocate all the functions.
And, as Lynch explains, the river itself was an obstacle. After decades of serving as a chemical dumping ground for the community mill district, "it was a polluted mess. Nobody wanted to go near it, and heaven help anyone who fell in." If not exactly crystal clear, the Cocheco River is certainly cleaner than it was 20 years ago, and environmental surveys have given the redevelopment area a relatively clean bill of health.
The Cocheco River also is undergoing a dredging project by the U.S. Army Corps of Engineers which will help with boat traffic to the Piscataqua River.
"It may not seem like it at times," says Beth Thompson, who has worked on the project herself for a decade, "but we've made a lot of progress. It isn't easy trying to develop this much city land that was being used by the city for important functions."
A committee formed in the early 1990s led to a design charette in 1996 that envisioned a mixed-use development of retail businesses and commercial office space, apartments and/or condominiums, restaurants and an expansive urban park that could include a riverwalk and public boat access.
It is this vision that leads Lynch to compare, in relative terms, the transformative capability of the Dover waterfront to similar revitalizations in Newburyport, Mass., and even San Antonio, Texas. "No one wants this to be a new shopping mall. We want this to be a place to live and work and one which will energize the whole downtown area and the city," Lynch says.
"It's taken 14 years to get to this point, and who knows how long it will take to get it done? It will happen. It's just a matter of time," says Jack Story, president of the Greater Dover Chamber of Commerce. The Dover chamber has kept track of the entire process on its Web site (dovernh.org/Pages/WaterfrontLinks.htm), and Story believes this is a historic opportunity for the business community, city government and the people of Dover.
Story says his members "are patiently enthusiastic because we know there is only one chance to do it right." For local businesses, Story explains, the stakes are important because an increase in visitors along with more retail presence could lead to more Dover residents staying and shopping and spending time in the downtown area. And waterfront development will return some land to the city tax rolls, which will benefit everyone.
"The market will dictate a lot of what will happen. There will be some movement of existing businesses but ideally, we'd like to see new types of businesses move in," says Story.
The market eventually will dictate much of what will happen but what is needed most of all is a developer or development group willing to step in and take over the actual building process. "Who will it be? That's the million-dollar question," says Lynch.
One thing is certain: the pace or planning is quickening. In April, the city council appointed the 11-member committee Lynch chairs with the mission of finally getting the project over the hump by presenting a redevelopment plan to the council. The 1996 charette is being updated, a traffic study is nearing completion and public hearings may begin as soon as the end of the summer.
Lynch says the committee is focusing hard on what can be done to best market the project to potential developers and the public. For now, he and others would like to see the city begin work on the riverwalk which, he believes, will not only dramatically improve the look of the area but will send a signal that "we are ready to commit time and resources to getting this done."