Dover company launches 2.0 version of Daily Nanny app
Childcare communication service now available on Android devices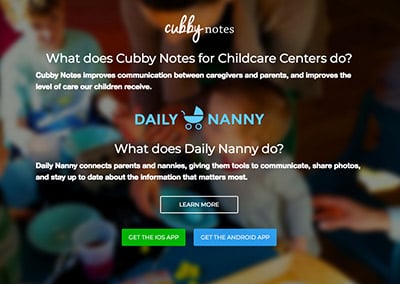 Cubby Notes, a Dover-based service that improves childcare, has launched the 2.0 version of their native iOS and Android mobile app Daily Nanny.
Daily Nanny is a mobile app service that keeps parents and nannies connected during the day by making sharing messages and photos, daily info tracking and a nanny shift tracker simple for both parents and nannies.
The update to Daily Nanny 2.0 provides the ability to add multiple nannies for each child, something that had been a request from users since day one as many of users have more than one nanny or childcare provider. Another update to the messaging feature allows users to see everyone that is part of the messaging thread at the top of the thread.
"We've been so thrilled with how well Daily Nanny has been received," said Cubby Notes co-founder Dave Coffin. "Our users are loving the app, and hearing from them and how much it helps nannies and parents make it all worth it. From day one we've been improving the app and finding ways to fine tune it to make it more useful, and one of the ways we have done that is to ask our users. They've come up with a bunch of ideas on how to make it better that we've incorporated into the app, and we have a long list of user requested features we are constantly working through."
The updates also stem from advice Cubby Notes co-founders Dave and Jennifer Coffin received after winning Live Free & Start's Ultimate Connection meeting. The competition enables any entrepreneur or innovator that has started or is planning to launch a tech business in New Hampshire to compete for a chance at making the Ultimate New Hampshire Connection – an hour long meeting with the governor, members of the Live Free and Start Advisory Council, and tech and industry leaders.
Dave Coffin — who learned native mobile app development to create Daily Nanny, utilizing NativeScript, a cross platform app development framework — has been active in the NativeScript development community. He was recently selected as a telerik developer expert as a result of his work on Daily Nanny.
"The fact that NativeScript enabled Dave to write and deploy native mobile apps for iOS and Android from a single codebase was a big asset in that regard, since he didn't have to learn multiple languages for each platform. He could also reuse the JavaScript and CSS skills he already knew to start putting the app together immediately," said Georgi Atanasov director pf software engineering at NativeScript.
Daily Nanny is available on the iOS App Store and Google Play.