docWeb offers websites by design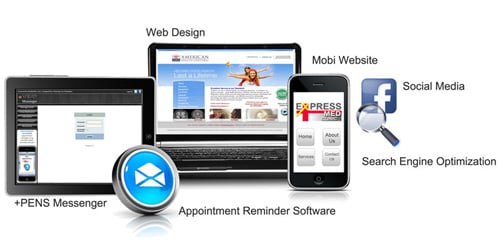 Founded by Dr. Azar A. Korbey in 2006, docWeb has been offering solid online presence for small businesses throughout the country with their web-based products and services. Originally founded on the premise of designing custom, medical websites at an affordable rate, docWeb has expanded significantly to offer customers extensive online services, ranging from design to the world of social media. Core docWeb offerings include:
• Custom website design
• Search engine optimization
• Electronic (and SMS Text) appointment reminders
• Custom software projects
"Our approach is consultative. We want to understand our customers from the inside-out, when it comes to their online needs. We'll sit down with you (yes, face-to-face) and take the time to learn about you and your business. Sometimes we find an existing website just isn't working, or simply needs a makeover. In other cases we find we can save you significant amounts of money because the postal fees you're paying to remind your clients aren't decreasing. We also help our clients navigate the ever-changing worlds of social media and search engine optimization," according to Kim Pezzetti, director of sales and marketing for docWeb.
docWeb is conveniently located in the hustle and bustle of Salem, New Hampshire at 163 Main Street. Customer service and satisfaction is at the heart of all that docWeb does. Supported by the wonderfully talented and dedicated staff, our team includes master web designers, customer care specialists and a technology leader with 30-plus years of experience, giving our customers a rewarding experience. When teaming with docWeb, you just might find a new friend!
This business profile is part of a special advertising section.