Do NASCAR sponsorships generate traffic for N.H. firms?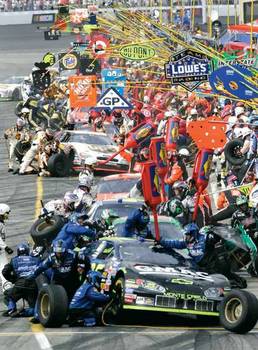 Ever wonder what one of those cars racing around the New Hampshire International Speedway in Loudon costs? Try a quarter of a million dollars. But that's nothing compared to the $15 million-and-up cost of splashing your logo on the hood of a NASCAR team for a year. That's a lot of Burger King Whoppers. Or M&Ms. Or UPS package deliveries.
Twice a year, in July and September, the multibillion-dollar road show known as NASCAR visits New Hampshire to create what is essentially the largest city in the state over two separate weekends, with more than 100,000 race fans in attendance at each event. In 2004, according to numbers compiled by the state Employment and Market Information Bureau, over $103 million was generated into the state's economy by those two races alone.
The ELMI, in its 2006 Vital Signs report, said that the two Nextel Cup races held at Loudon helped generate about 2,500 jobs and $103,125,445 in earnings.
The report said that overall spending for 2004 was more than $96 million — 84 percent of which was spent by out-of-staters. Over 67 percent of those out-of-state expenditures — more than $54 million — were spent on a combination of retail and entertainment.
But does it follow that, if these are the two biggest financial windfall weekends during the year in the Granite State, the affiliates and franchises of those big-spending NASCAR sponsors are reaping some of those millions? In other words, if you own a UPS Store in Manchester, how much traffic does the corporation's sponsorship of Dale Jarrett's No. 88 UPS car help drive into your store?
"Zero," said Steve Sacco, who owns three UPS stores in Manchester, adding, "I really wish we could do something with this."
Sacco is apparently not alone among New Hampshire owners of businesses whose national corporations are spending those millions on NASCAR affiliations.
"A NASCAR sponsorship is a complete waste of money for small stores like mine," said Ray Brooks of Auto Value's Car Parts store in Epsom.
"You would never know we had a NASCAR sponsorship if you went into any of our stores," said Dan Evans, vice president of marketing for seven Subway stores in New Hampshire. "I wish the national guys would help us out a little."
Such a refrain is not surprising to Judy Carlough, a New Hampshire sales consultant and president of Sales & Management Results of Nashua.
"These local storeowners and franchisees are busy managing their everyday responsibilities, and many don't have the time nor the resources to create and fulfill a campaign that is tailored to their local needs," she said.
According to Carlough, there is an "opportunity" for local businesspeople to reap some of the financial benefits generated by all those NASCAR-related marketing efforts. "But when you are already working 10 hours a day, it's tough for many of these storeowners" to find the time to invest into NASCAR-specific promotions.
'A great fit'
While the glass is half empty for many – or completely empty, in some cases – several other New Hampshire businesses are finding NASCAR affiliation very much to their liking.
Mike McInerny, general manager of Waste Management New Hampshire, could not be more pleased with his national corporation's NASCAR sponsorship.
He said it gives him the opportunity to take hundreds of his customers and employees to the races. Ditto Tim Quinn of Capital Distributors of Concord, the Coors distributorship.
"Coors, Ganassi Racing and Sterling Marlin have given us tremendous support … This is a great fit for us, and we're making the most of it."
Same races, same opportunities and yet vastly different opinions. And results.
Is all this money spent on NASCAR sponsorships just about building brand awareness or should the benefits be more tangible? The title sponsor of the July 16 race at New Hampshire International Speedway, Lenox Tools, sees the need and the opportunity for both.
According to Rich Mathews, vice president of marketing for Lenox, "the NASCAR demographic and our product line – industrial saws and tools – make perfect strategic sense."
He said the firm's pre-race display – at which three cars were sawed into little pieces in the space of a few minutes — "drew thousands of spectators" and taking "more than 300 of our employees to the race was great for our company morale."
The operative word in Mathews' explanation is "strategic." The more than $50 million per race generated into the state's economy is a lot of money for a state the size of New Hampshire. And while they say a rising tide lifts all boats, if you are a storeowner whose sponsorship dollars are being spent in building the gunnels on that boat it does seem fair that you should get a better seat once you get on board.
Lenox, NAPA, Sylvania, Target and the other national NASCAR sponsors are more than happy to shell out that $15 million for a place in the related marketing and sales race.
But most sales, like all politics, are local. And while the NASCAR races provide an opportunity for local businesses with NASCAR affiliations, whose responsibility is it to create the strategy to reap the benefits?
While there may be no one-size-fits-all answer, it's clear that local businesses are better served by taking the bull by the horns.
As Carlough said, "When it starts raining dollar bills, that's not the time to find out you don't have a bucket," adding: "preparedness heralds opportunity."
Chris Visser is president of AnteroSports.com, a sports marketing firm.