Do 8's mean wacky weather?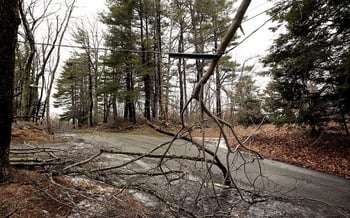 For most of us, the unusual weather events starting with the Dec. 12 ice storm, continuing with two snowstorms at the end of December, and culminating in a snowstorm that was scheduled to begin last night was only bad weather.
For Janice Stillman, it was head spinning.
Stillman is the editor of the Old Farmer's Almanac, and in 2007 she edited a story for the 2008 almanac about how there has been weird weather – blizzards, hurricanes, heat waves, droughts – in years that end with the numeral 8, as far back as 1748.
"Chronological meteorological mayhem," as author Gregory Zielinski called it.
Zielinski, a research professor and former Maine state climatologist, wrote about how large weather patterns, such as El Nino, as well as sunspots and volcanoes, "have a pronounced impact on our weather," and he speculates on whether the weird weather events were cyclical or random.
Then came Dec. 12, 2008, and the devastating ice storm that knocked out power for millions of people in New England and upstate New York – another historic weather event in a year ending in 8 – a year that also included California wildfires, hundreds of Midwest tornados and a record-setting snowfall in Ohio.
"It's kind of remarkable," Stillman said. "All we really wanted to do was propose (the "8" aspect) as a possibility. By the end of December, it was kind of head spinning. There were a number of extreme events around the country (in 2008), but it hits home when it happens around here."
The annual magazine, published in Dublin, is famous for its yearly weather predictions and stories about unusual weather events. In 2007, Stillman, who's been the editor for nine years, was having trouble coming up with a topical weather story.
Then "in the course of conversations it came to our attention that there was an awful lot of extreme weather in years that end in 8," she said. "Nineteen ninety-eight, for example, is the warmest year on record."
As far back as 1748, when parts of New England had more than 25 snowstorms and depths of 4-5 feet of snow were common in eastern New Hampshire, there have been extreme weather occurrences – blizzards, hurricanes, heat waves, droughts – in years that end with the numeral 8.
"And it wasn't just snow and drought," Stillman said. "It was tornados, floods, hail, ice – it ran the gamut. We decided this is a story."
So she asked Zielinski to write a story and she headlined it "Crazy 8s."
It ran in the 2008 almanac and described the extreme weather events over past centuries in the years ending with 8, including one of the deadliest-ever storms in the Midwest in 1988 that killed hundreds of children on their way home from school.
Locally, there was the 1938 hurricane that washed away houses in downtown Providence, R.I., and brought 50-foot waves to Gloucester, Mass., a 1958 snowstorm that brought 50-inches to the Northeast, the 1978 blizzard that crippled Boston and the 1998 ice storm.
"Big storms and extreme weather events occur somewhere in North America just about every year," Zielinski wrote. "But in some years they seem to be more abundant and/or extreme. Take the years ending in 8, for example."
The author, however, does not seem to know exactly why these events predominated in the "8" years and not in the other numbered years, but it can be presumed that these cycles last about eight years.
As much as she is amazed at the prescience of Zielinski's story, Stillman is not surprised at the overall accuracy of the almanac's forecasts.
Robert B. Thomas, the magazine's founder, invented a formula in 1792 involving the influence of sunspots. Since then, the almanac has used modern technology and calculations to refine it, and now claims to come close to 80 percent accuracy.
"Neither we, nor anyone else, knows the mysteries of the universe," Stillman said. "But using available scientific data every year enables us to be somewhat more accurate."
Which all boils down to this: Keep your snow shovels handy.
The almanac predicts snow, sun and cold for Jan. 6-9. The snow will then take a break until Jan. 20-24, and then there will be more snow through Jan. 31. In February, it predicts frequent snow showers.