Disparities in NH teacher pay: 'penny wise and pound foolish'
Wide variability of pay across state seen as having an impact on instructional quality, morale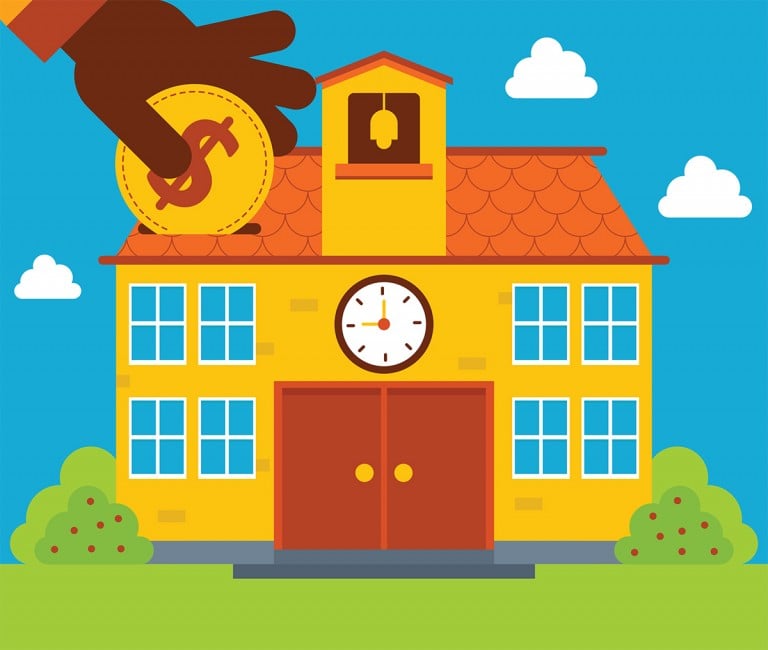 Every year around mid-summer, the dreaded courtesy phone calls between school superintendents begin. One district unexpectedly loses a teacher to a higher-paying district, in turn forcing that district to pluck a teacher from a district with a lower pay scale just weeks before the start of the new school year.
"It's awful," said Jacqueline Coe, superintendent of School Administrative Unit 24, which serves the towns of Weare, Henniker and Stoddard and often finds itself scrambling for teachers in the summer months. "It's not fair to the kids."
Teacher salaries vary widely across New Hampshire, according to two new teacher salary reports compiled by Reaching Higher NH. The difference between the highest and lowest starting salaries for teachers with a bachelor's degree is more than $17,000, and that gap widens as teachers climb their respective pay scales.
Just one measure of the disparities that exist between New Hampshire's public schools, teacher compensation has far-reaching implications that go beyond hiring headaches. School officials say the turnover rate that plagues lower-paying districts profoundly influences instructional quality and school culture, and arguably costs schools more than they save in compensation packages.
A familiar plot
From the moment he posted a teaching job, acting Pittsfield Superintendent John Freeman was at a disadvantage.
In the 2018-19 school year, Pittsfield's starting pay for teachers with a bachelor's degree was $30,452 — one of the lowest starting salaries in the state.
Not surprisingly, the pool of applicants for any given teaching job was small — especially if it was a more in-demand position. And Freeman didn't always get his first choice.
"It's not all that unusual for a teacher to sign a contract and then change their mind," said Freeman, a longtime Pittsfield educator and advocate for funding reform who retired last month.
Those who do stick around often don't stay for long. The turnover rate can be up to 25%. A few years ago, the district lost its entire middle school team in the space of two years.
Superintendents in other districts on the low end of the pay spectrum said they're forced to play a similar game: hire inexperienced teachers, train them, then lose them within a few years to better paying districts. And that pattern has consequences for instructional quality.
"Teachers really hit their stride between the fifth and the eighth year of teaching," Freeman said. "It takes time to feel comfortable in the classroom (and master your material). … We also lose traction with the curriculum we've developed."
Michelle Davis has been teaching in the Franklin School District for almost 25 years, and in that time she's seen countless teachers come and go. One of the biggest challenges for her is having to rebuild teaching teams year after year.
"It makes it really difficult to have any consistency in programming," said Davis, who teaches 5th and 6th grade English language arts and social studies. "When a teacher leaves, it affects what the whole team is able to do."
The instabilities created by teacher turnover may directly impact student learning as well. "We get beat up for our low test scores," Coe said. "We haven't been successful in making the connection that it's really hard to improve student achievement without a consistent staff."
Too many good-byes
Some of the most troubling effects of low pay are hardest to measure.
Daniel LeGallo, who now serves as superintendent of the Franklin School District, began his teaching career in Raymond, another district that struggles to offer competitive teacher pay. "The kids would say to me, 'you're only going to work here one year anyway,' " said LeGallo (who ended up staying there 18 years). "I was heartbroken. The kids had low self-esteem about their school and their town."
Beth Page, a district case manager for three years in Franklin, is leaving the district this fall for a job in a nearby district. She said pay isn't the primary reason she's moving on, but that doesn't mean she's been immune to the toll the pay rate takes on teachers.
"I think the morale piece is bigger than the actual salary piece," Page said. "The teachers here are passionate and the work is very valuable, but I've seen some teachers who are very loyal to Franklin become disheartened."
Districts with low teacher pay also tend to struggle to pay their support staff a living wage, and the constant comings and goings can disrupt critical support systems for students. A student might, for example, have two or three different counselors during their high school years, or lose a trusted mentor at a difficult time.
"I often think of students who have also suffered loss in their personal lives and how this affects them," Freeman said. "It's that cumulative effect of losing traction, and the kids seeing people leave all the time and not knowing who's going to come back."
Hidden costs
One of the most frustrating realities for administrators is that cutting costs at the salary level often translates to inflated costs elsewhere.
In Weare, new teachers are provided "responsive classroom" training, specialized professional development, and peer mentors. They also require more administrative support.
"It costs more to hire a new person than to retain someone," Coe said. "So in some ways, it's penny wise and pound foolish."
What's more, the money invested in new teachers ends up benefiting more affluent school districts. "Any kind of training that you provide to your staff, you hope pays off in the long run in terms of their effectiveness," Gallo said. "When that investment walks out the door again and again, it's hard to make gains."
Because low pay impacts instructional quality, schools often have to fill the gaps in other ways; and those efforts come at a cost, too.
Franklin High School, for example, partners with other schools and organizations to give students some of the educational options that can't be offered in-house by the bare bones staff, Page said.
"We're paying other schools to do this work," she said.
Investing in teachers
Berlin School Superintendent Julie King isn't sure precisely when or how it happened, but at some point, district officials made a bold move.
"Many years ago, (school and city officials) recognized the difficulty of attracting and retaining teachers to the area, and they made a concerted effort to put together good packages," King said.
In the 2018-19 school year, Berlin paid first-year teachers with a bachelor's degree $38,002 — about $500 above the median first-year salary in the state — and offered increases ranging from 3.4% to 4.7% each year for the first 10 years, according to Reaching Higher NH data. That puts the district ahead of many towns in the region as well as towns with similar median household incomes and tax rates.
The competitive salary scale in Berlin got Andy Rancleos' attention when he was starting out in the field 18 years ago. "The pay was definitely a factor at first," said Rancleos, who grew up in Colebrook. "It's an area I know, and the pay is really good. … I thought, let's get my foot in the door in a place where I can start paying off these student loans."
But Rancleos quickly put down roots deep enough to keep him in Berlin even as it faced a massive decline in enrollment and incumbent financial woes.
"The people I work with are fantastic," Rancleos said. "There was a time when I thought I needed to get out of here … but now I really like where the district is headed."
When it comes to compensation, it's getting harder to maintain an edge over other districts, King said. She also recognizes that money alone won't keep people there.
"It's about finding a good fit," she said. "It's so important for people to understand what they're getting into (when they move here)."
Don Picard came to Berlin from Burlington, Vt., 26 years ago because the district offered him a full-time position right out of college. Like Rancleos, he initially planned to stay just a few years but ended up sticking around. He got a coaching job he'd been hoping for, met his wife (who works in the high school office), purchased a house and had kids.
"There certainly have been opportunities to go different places, but it's definitely worth it financially for me to stay," Picard said, citing the relatively high compensation coupled with the relative low cost of living in the area: he paid $55,000 for his house. "It's just a different lifestyle."
Educators in Berlin say there's also a strong feeling of support that goes along with the higher pay. "I think people understand that they need to keep good teachers here for the youth," Rancleos said.
In districts that haven't been able to offer competitive pay, cultivating a culture of support may be even more important.
"If you know you can't be competitive with the financial, then you know you have to be competitive with the working environment, the professional opportunities, the opportunities for growth," LeGallo said. "You might not be rich here, but you're loved. We value you."
Tough choices
In an ordinary school year, Davis gets to her job at Franklin Middle School at 6:45 every morning and usually stays well beyond the 3:10 bell to work on committees and other commitments. Her day includes no real planning blocks, so she works all day either Saturday or Sunday creating lesson plans and preparing materials.
And then there are the side hustles in retail or food service — not to put food on the table. Her husband has a good-paying job, but uses the extra money to buy books, furniture and digital resources for her classroom.
"I've always worked two or three jobs," Davis said. "You do what you've got to do."
Davis loves the Franklin community and has no intention of leaving, but she's not ignorant of the tradeoffs she's made — tradeoffs that are common in the teaching profession.
For LeGallo, securing a paycheck that was adequate for his family required a reluctant move into administration.
"I love teaching. If I could teach and make what I make now, I'd still be teaching," he said. "I moved my way up the chain because of the need to support my family. A lot of teachers would stay in teaching if they could."
Reaching Higher's data underscores the reality that teaching pays less than other professions requiring a college degree. After 10 years, teachers in many New Hampshire communities make less than $50,000. That's about $10,000 less than the average salary for Americans with a college degree in 2018, according to the U.S. Bureau of Labor Statistics.
It's hardly surprising, then, that talented would-be teachers are choosing other fields. Over the past few years, researchers have found evidence of a teacher shortage across the country.
This doesn't surprise King, the Berlin superintendent. Even with higher-than-average salaries, "We're starting to see some difficulties attracting quality educators," she said.
Time for a change?
Teacher salaries are, of course, part of a bigger picture.
Last year, the New Hampshire Legislature established the Commission to Study School Funding and charged the group with conducting research and public engagement initiatives and crafting policy recommendations. At a recent meeting, commission members discussed teacher salaries as a possible root cause of other disparities and contemplated setting a base teacher salary.
Most educators agree that solutions lie at the state level. Twenty-five school districts have signed on to a lawsuit known as the ConVal Lawsuit, which asks that the Supreme Court set a deadline for the legislature to revise the school funding formula.
In Pittsfield, which recently joined the lawsuit, the local education property tax rate has increased by 48% in the past 10 years, largely because the state is not fulfilling its duty, Freeman said. It's hard to get teacher raises approved in such a climate.
"The tax system that forces communities to make these hard decisions disadvantages communities like Pittsfield," he said.
Reaching Higher NH is a nonpartisan, nonprofit that serves as a public education policy and community engagement resource for New Hampshire families, educators, and elected officials. the organization Higher is sharing this article with partners in The Granite State News Collaborative. For more information, visit collaborativenh.org.