Discount store Zyla's closing its doors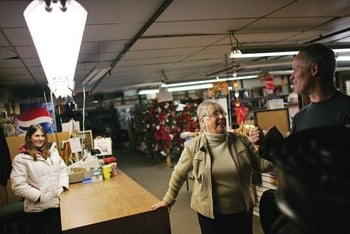 MERRIMACK – Zyla's, a longtime, locally owned discount warehouse, is going out of business after nearly 50 years.
Dottie Zyla, who is married to co-owner Jack Zyla, said Tuesday that the couple has been thinking about selling for the last year due to the economic downturn.
"It's not exactly the way we wanted to go out, but we are," Dottie Zyla said. "Given the economy. . . we just decided it was time to call it a day."
Zyla said many businesses that provide a large wholesale component to the store have struggled. That has trickled down to their own store, located at 526 Daniel Webster Highway. She added that retail sales have also shrunk, and keeping up the "enormous" 65,000 square-foot warehouse building with taxes and fuel costs has been a lot.
"I have mixed emotions," Zyla said. "Initially, it's sad. You get over it, though, because we've worked seven days a week for 30 years, at least . . . You have to do what you have to do."
Zyla just put up a sign about the closing, she said. But the building, which sits on 8.5 acres of land, has been on the market for $2.99 million since October, according to listing agent Roger Dieker, of the Manchester commercial real estate firm CB Richard Ellis.
He's shown the property to at least half a dozen clients, and several have offered to lease the building. Some of those offers are pending, Dieker said, though the Zylas' prefer to sell.
In August, Dieker also helped sell the Zylas' first location on 71 Tarrytown Road in Manchester. It will become New England Brace, a prosthetics manufacturer.
John Zyla started a shop there in 1954. Several years later, he moved into the relatively massive Merrimack warehouse, which was built in 1960. His sons Jack and Gary Zyla inherited the business in 1991, the year John Zyla died.
It's always been a family-run operation – plus "every kid in the town of Merrimack worked here at some point," Dottie Zyla said.
Most were used as "runners," delivering merchandise to folks who bid at auctions – a Zyla's staple for many of the early years.
Now, Zyla said she and her husband are of retirement age, but they aren't ready to settle down just yet.
Her daughter and son-in-law opened a store in Merrimack last week. Brown's Village Depot, in the CVS plaza on Daniel Webster Highway, is "like a mini-Zyla's," with more focus on inexpensive tools, Zyla said.
While they haven't been hired, the Zylas will be involved.
"Let's say we will consult," she said with a laugh.