Developers continue to see plenty of potential in downtown Nashua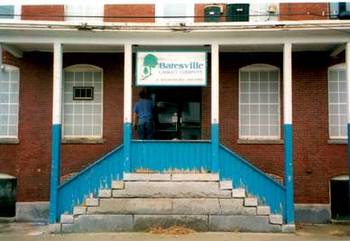 Chris Williams, president of the Greater Nashua Chamber of Commerce, grew up in Texas, so it should not be surprising that he tends to think on a large scale.
Not long after the city of Nashua completed a $200 million renovation of its schools, Williams thinks it's high time the city's alderman loosened their grip on the purse strings enough to spend another $6 million or $7 million to get the long-awaited Broad Street Parkway project done.
"That's been on our radar screen for about 30 years now," said Williams, who joined the Nashua chamber not quite six months ago after serving for two years as vice president for economic development and government relations for the Greater Manchester Chamber of Commerce. He and other businesspeople in the Gate City see the parkway project as key to the city's continued economic growth.
"The city of Nashua has always been a strong city," said Williams, noting that Money magazine has named the city as the best place to live in America twice in the last 15 years. "I believe it is critical for the city to take advantage of its opportunities, much like Manchester has done."
The growth of Manchester's airport, the success of the five-year-old Verizon Wireless Arena and the added popularity of the new baseball park that is home to the Eastern League New Hampshire Fisher Cats have helped spearhead a revival of the Queen City, he said.
But Nashua retains a larger manufacturing base than the slightly larger city of Manchester, although it has seen some significant erosion of jobs in that sector of the economy in recent years.
The Batesville Casket Company, for example, not long ago moved some of its operations from Nashua to Mississippi and the rest to Mexico.
"Mexico is really old news," said Jay Minkarah, the city's economic development director. "The more significant outsourcing is to China and India. Most definitely in Nashua we have lost many manufacturing jobs."
The movement of money and jobs across oceans and continents certainly has caused disruptions in the local economy. The city lost a large number of manufacturing jobs between 2001 and 2003, Minkarah said, as the dot-com bubble burst and competition from overseas intensified.
"When you look at the number of engineers India is producing, there's no reason to take it as a given that we're going to continue to be dominant in R&D," he said. "It's very clear that we're shifting rapidly to a global economy and a global society that is really beyond what most of us grasp at this point. There is less importance attached to being in any particular place."
A matter of appreciation
As if to underscore Minkarah's point, a mammoth development project is planned for the city by a firm based 3,000 miles away. Harper Nashua LLC is a creation of Harper Construction Inc. and Harper Community Inc. of San Diego, Calif. The firm plans to build a 358-unit residential development, with retail included, at and adjacent to the former Nashua Corp. site on Franklin Street at the northern end of downtown.
The project is planned in three phases and will provide primarily workforce housing. Ron Harper Jr., executive vice president of the companies started by his father in 1974, said this is the first foray of family business has made into New England.
"Our construction arm isn't doing anything on the East Coast," he said. The California entrepreneurs will hire area firms to do the construction in Nashua.
"It's mixed-use, pedestrian-friendly," Harper said, "with shops below on the first floor, much like downtown Nashua, and condos and apartments up above."
In addition to renovating the main building of Nashua Corp., other buildings will be constructed to create 600,000 square feet in a project that Harper estimates will cost "tens of millions, if not over $100 million." Harper, whose company has done more than $1.8 billion in construction work in Hawaii, Washington, Oklahoma and other places since 1974, has had the opportunity to appreciate what an infusion of out-of-state capital can do for a community.
"A Vancouver, British Columbia, firm came down (to San Diego) and started buying up waterfront properties when they saw a situation similar to the city (of Nashua). When these projects are done right, it adds really good value," he said. "I can't believe what the property next door to our office sells for compared to what it was. We see the same potential for riverfront development in downtown Nashua. I think people there don't appreciate how nice things are."
MDP Management of Hudson plans to turn the former Batesville Casket building on Palm Street into a 140-unit elderly housing development that will, along with such amenities as a cafeteria and barber shop, no doubt bring more people into downtown Nashua and keep them there.
The project will include just under 200,000 square feet of residential units and 150,000 square feet of commercial space, said Tony Marcotte of Bedford Design, engineer on the project. The size of the building, the history of the century-old property and its location near the center of downtown all contribute to what will be a most attractive development, Marcotte said.
"Eight blocks from Main Street, people can walk downtown," he said. The development will include a 10,000-square-foot atrium connecting the residences with the commercial development, the engineer said. "It will have a lot of appeal" to the empty-nesters and others who will be populating the residences for people age 55 and over, he said.
Nashua developer John Stabile also is working on a 160-unit residential development with Southern New Hampshire Services in Nashua. The development will be built close to the Harper project in the Nashua Corp. building.
Roughly 32 of the new units will be for affordable or workforce housing, while the rest will be priced for various sectors of the market, Stabile said. Prices of the condos will range from around $180,000 to $300,000.
About a stone's throw away, work continues on an upscale condominium development overlooking the Nashua River near the intersection of Main and Canal Streets. All of the residential and retail plans fit in nicely with the city's Riverwalk development, said Mayor Streeter.
"I think Nashua and Manchester are the municipal jewels of New Hampshire," said the Gate City mayor.