DeStefano Architects win 'Home of the Year' honor
Honorees selected in nine other categories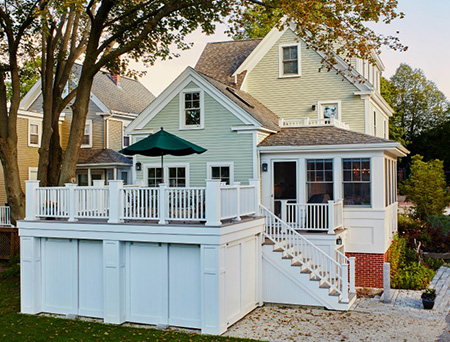 A South End Portsmouth home designed by DeStefano Architects took home the 2017 Home of the Year Award at the annual New Hampshire Home Design Awards, held Jan. 25 at the Manchester Country Club.
DeStefano's "South End Revival" was given the top prize from among 72 entries in 10 categories for this year's awards competitions. Fiorentino Group Architects, also of Portsmouth, received honorable mention in the category for its "Bristol Woods Residence."
The competition, which is judged by a three-member, out-of-state jury selected by New Hampshire Home magazine, reviews submissions for locally constructed and designed homes and landscaping, and determines award recipients.
This year's jury included architect Jesse Kaplan of Kaplan Thompson Architects, Portland, Maine; interior designer Tracy A. Davis of Urban Dwellings, Portland; and landscape architect Jeff Pelletier of Michael Boucher Landscape Architecture, Freeport, Maine.
"The Home Design Awards is a unique opportunity for residential and landscape designers in New Hampshire to be recognized and honored for their beautiful work," said Andi Axman, editor of New Hampshire Home.
Other winners honored were:
Architectural Design: Winner, Bonin Architects & Associates, New London; Honorable Mention, Samyn-D'Elia Architects, Ashland
Bath Design: Winner, C. Randolph Trainor Interiors, Franconia
Historical Renovation Design: DeStefano Architects
Interior Design: Winner: PK Surroundings, Exeter
Kitchen Design: Winner, C.Randolph Trainor Interiors and Ashland Lumber; Honorable Mention: Crown Point Cabinetry, Claremont; Honorable Mention, PK Surroundings
Outdoor Design: Winner: Belknap Landscape Company, Gilford
Remodeling/Renovation Design: Winner: DeStefano Architects
Small Home Design: Winner: Cynthia Clark Interiors, Hampton
Specialty Room Design: Winner: Scully Architects, Keene; Honorable Mention: CJ Architects, Portsmouth.