Designing woman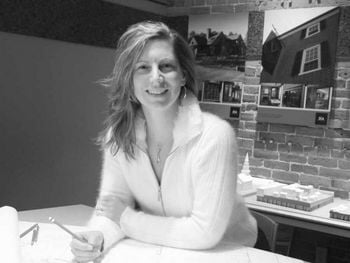 Lisa DeStefano, owner and principal of DeStefano Architects, was born and bred in Portsmouth. So when she decided to give free rein to her entrepreneurial spirit and open up her own design firm – just a handful of years after graduation – the Port City was an easy choice.
For the 41-year-old DeStefano – who with her 10-person staff will be celebrating her 10th anniversary in business next May — creating "people spaces" is her passion, and bringing those spaces from blueprint to bricks for people just as passionate about good design as she is proves to her home is where the heart is.
Q: What attracted you to come back and work in Portsmouth as opposed to Boston or somewhere else?
A: I did work for a Boston firm for a while, but I never really left. I went to the Boston Architectural Center, and there's a lot of advocating there. Your instructors are actually architects; they work by day and they give back to the architectural community and teach at night. So that's something that's been kind of instilled in me.
My roots were always here. It's a lovely community to work in, and it's a lovely community to live in. It was a really nice opportunity.
Q: What made you decide to open your own firm as opposed to letting somebody else worry about paying the office bills?
A: I think that either somebody has that entrepreneurial core or they don't. I thought it would be really nice to create my own firm here and build in the community I grew up in.
Q: You design both residential and commercial projects. What types of projects do you like best?
A: I refer to the types of projects we do as "people spaces." Our commercial projects are restaurants, retail facilities — things that are in the heart of a community. The scale of it, the feel of the interiors as well as the exteriors at the pedestrian level, are people spaces. So that's kind of how I connect our commercial philosophy to our residential.
Q: What's your favorite part of the architectural process?
A: I have to say I enjoy the people contact, and certainly the creative aspects. But I guess I'd say the best part is driving down the road or walking down the community and seeing all of that come to fruition.
I think the people here in the office feel that passionately about it as well. We did this project that people know as the Dow Gulf Station, an old gas station. It got demolished, and we put in condos there. The project was 98 percent done, but we were waiting for special brackets on the overhangs of the covered entryway. Driving in this morning – and I've been looking daily – I saw that they were finally installed. I was just thrilled to see how beautiful this last piece was. That was like icing on the cake. When I told the office, they were all as excited as I was.
Q: Because you live and work here, you have that vested interest.
A: Right. I think that's one of the reasons I was sought after for the Hilton project. They wanted a local person who understood the process of designing, and the approval process, working with the city. Also, I'm vested in what happens in the community.
Q: Tell me more about the Hilton Garden Inn – what are some of the design concepts you're looking to bring in?
A: It's referred to as the Parade Mall site, which is on the corner of Hanover and High streets. It's on the corner opposite the Sheraton, but not similar in function.
It will have 131 rooms and 21 private residences. There's a rooftop deck for the residences. We initiated a tree-lined streetscape with brick sidewalks, granite curbs and period lighting. It will be a very warm and inviting area.
We want to anchor a building on a corner, which then promotes activity, vitality. People want to walk down a street that has a building with an edge and things that they can look into. Right now, you're looking into a parking lot and you probably don't walk to that side of the street.
A successful city has edges and buildings and thoroughfares and things for the pedestrian experience. We're creating a streetscape.
Q: You mentioned it will have a different function than the Sheraton.
A: My understanding is that the Sheraton is more for conferences. You go to a conference and you stay there. There will be conference space in the Hilton, but it is very small. So it's more for tourists or visitors.
Q: When designing something like a hotel, how do you keep grand spaces from feeling overwhelming?
A: In any design, we think about the approach to a space. What do you see when you enter a space? What's the height of the space compared to its proportions? It's years of education and practice that help you pull those things together to be successful.
Q: The cost of construction materials is skyrocketing. How has this affected your business?
A: We're always fighting with what material costs are. Metal went through the roof. I have a project in Rye, and it has a full copper roof. The contractor suggested to the clients that we could buy the metal for it now, even though we haven't got a signed contract. If the clients decide not to build, we can resell the copper. But at least we could lock them in and get the quantities today, because in another week it will be x percent more.
Q: You give back to the community by designing in it, but you are also active in the community by mentoring at schools and volunteering at the Women's Business Center. Tell me about some of the things you're involved in.
A: We have gone to teach at different schools. There was a 4th-grade class that I led on a scavenger hunt through the town. That was great fun. I and some of the others in the office have been guest lecturers at high schools.
I went through a program at the WBC, I guess nine years ago now. Then I became a mentor there for a couple of women who were starting up their own businesses. That was great.
I've been on the board of the YMCA, which was a great group. It was nice to give back and relate with a family organization.
I've become a board member for the Portsmouth Chamber of Commerce. I thought it would be great to assist in the business community with my experiences of growth and development. There's a potential for a lot of changes in the Portsmouth area and how the business community will be affected by those. It's been great to be able to be involved that way.
It's very important to give back. I have several employees that volunteer on boards or in different organizations, and that doesn't always happen after 5 o'clock. We're in a field I feel very fortunate to be in, in that we all love what we do. It's nice to foster that and give back.