Derry business wins SNHU entrepreneurial challenge
QuadraSquare produces a medical imaging device that could signal the future of breast screening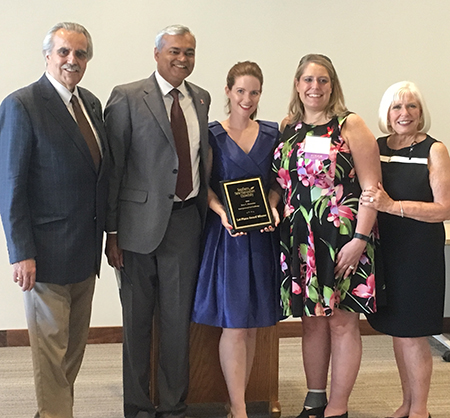 QuadraSquare, a Derry-based designer of a medical imaging device suitable for dense breast screening, received first place in Southern New Hampshire University's 7th annual Tory C. Marandos Entrepreneurship Challenge. The device, which detects cancers with reduced radiation doses and no painful breast compression earned the company $5,900 prize.
"The inability of mammography to accurately detect cancer in dense breasts is a very personal issue for me and many others," said Megan Kudrolli, president of QuadraSquare. "Having the support of the SNHU community and the Marandos family will be invaluable in our efforts to bring to the clinic a greatly superior solution."
The competition, administered by Southern New Hampshire University, is named after the late entrepreneur Tory C. Marandos. According to his family, friends and co-workers, he was an enterprising and caring young man who went above and beyond for his friends, family and anyone who came into his life.
Eligible participants included all active and start-up businesses in New Hampshire, in business less than three years, as well as entrepreneurs in the state who have not yet started a business but have an idea.
The competition asked participants to submit a two-page business concept paper by mid-February. Afterward, a team of judges chose ten semi-finalists, who attended a three-hour business plan training prior to submitting their final business plan. Five finalists moved on to the final competition, which was followed by an awards ceremony.
A second prize award was delivered to FitLink, a Nashua-based health and fitness app start-up, who received $2,000 made possible by the family of Jacques Thibodeau in his loving memory.
"My husband Cos, our daughter Tara and I are very proud to be here today to award this prize to an outstanding individual entrepreneur, or team of entrepreneurs, who will now be able to go forth and begin to follow their dream," said Lynda Marandos, mother of Tory C. Marandos. "Passion is what an entrepreneur slathers his idea with, it's something he just can't let go of. He eats, sleeps and drinks this idea 24-hours a day for days, months and years until he can bring it to fruition. And that is why we are here today."