Delivering peace of mind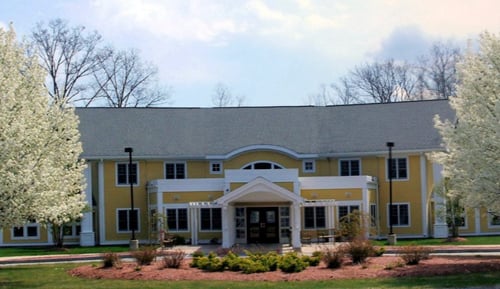 Peace of mind is vital for those caring for a loved one with memory impairment or dementia – you rest easy when your family member is happy, healthy, and secure. The staff at The Arbors of Bedford, an Assisted Living Facility specializing in care for various stages of memory loss or dementia, knows this, and so they've worked to build a unique, homelike environment where residents and family feel comfortable and safe.
"Due to the specific needs of residents with Alzheimer's or Dementia, we provide unique services for each stage of care," explains Executive Director Michele Ellis. The Arbors is divided into four communities serving various stages of care, assuring families their loved one will benefit from specialized services designed to meet their needs, along with medical care and supervision for more clinically complex residents.
That specialty care means encouraging stimulation, resident interaction, and easing anxiety often resulting from memory impairment or dementia. The Arbors is an inviting series of neighborhoods, complete with a beauty/barber shop, family-style dining, and programs designed to stimulate physical and psychological capabilities.
Making residents feel at home is often as simple as making family feel welcome, and that's another important feature of The Arbors. Family members are encouraged to frequently visit. Private dining is available for celebrating special occasions, and family can participate in enriching activities that help residents celebrate each new day.
"We cultivate a family atmosphere," Ellis says.
The Arbors, however, features more than its fair share of professional clinical expertise, with features such as 24-hour nursing care and supervision; physician, psychiatry, pharmacy and podiatry services; physical, occupational, and speech therapies; audiology, optometry, dental, dermatology and wound clinic; and respite and hospice care. The Arbors also provides essentials like housekeeping, laundry, and dietary services, as well as community education and support groups.
The Arbors is a supportive, safe environment that retains a non-restrictive, community feel. The Arbors' security system exceeds all government requirements, with alarm and computerized door signals that keep staff informed about residents' whereabouts, throughout the 60,000 square feet of living space.
With such specialized services delivered in a secure, comfortable environment, The Arbors of Bedford provides precisely the care your family member needs. You'll be sleeping more easily before you know it, secure in the knowledge that your loved one is, too.
This business profile is part of a special advertising section.