Dartmouth Health CEO discusses leadership and more
According to Joanne Conroy, the role of health systems is 'working together across our region'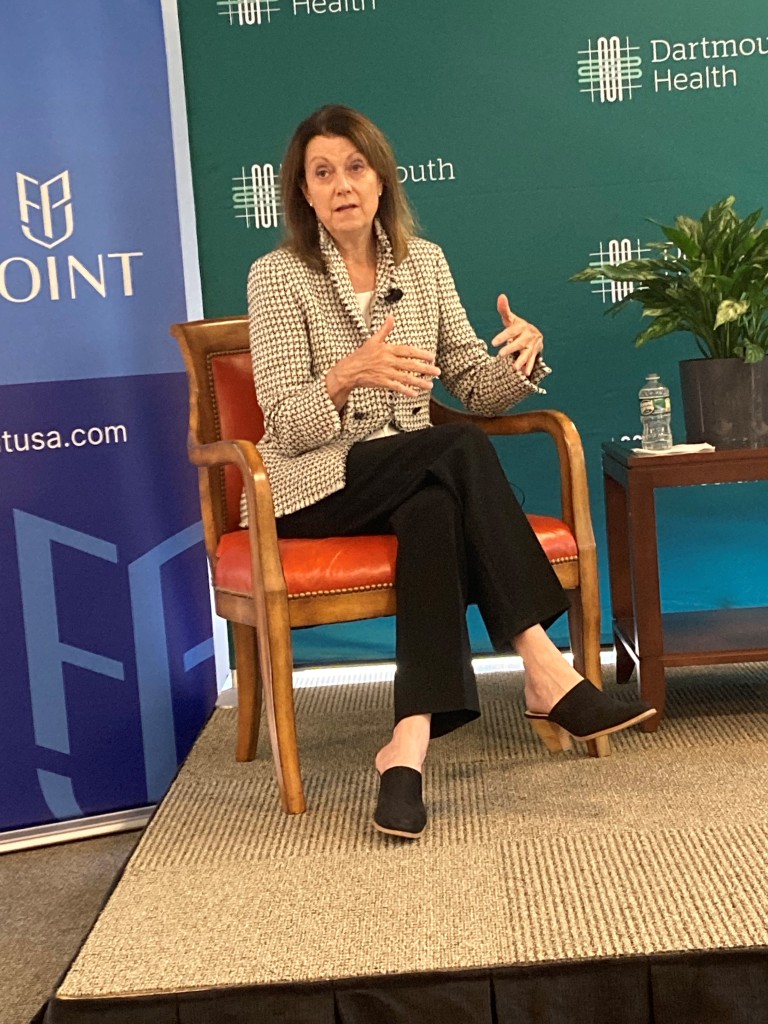 As CEO of the largest health organization in New Hampshire, Dr. Joanne Conroy of Dartmouth Health follows four guideposts when it comes to her leadership style: Authenticity, integrity, responsibility and commitment to a larger picture.
Conroy discussed her leadership style and more during a presentation July 26 with FedPoint CEO Paul Forte at FedPoint's offices at the Pease International Tradeport.
According to Conroy, heads of organizations become better leaders when tested by difficulty. Hers included the Covid-19 pandemic.
"You do learn leadership through experiences and you get scalded a bit," she said, noting she has several books on leadership in her home library. "I have a few scars. But they actually make you a better leader when you have to deal with really difficult situations."
She cited a personal past experience with her late husband when she talked about the need for authenticity, her first leadership tenet. She was on a business trip, having a difficult conversation by phone with her husband.
"I realized that I was managing him like a conflict management person from across the country, and it occurred to me that it wasn't very authentic," she said. "That is not healthy for an individual or relationship, if it's a marital relationship or business relationship. So you just need to be authentic with people, which sometimes means being honest in a very positive way, but just being as honest and straightforward as you can and respecting the individual."
When she talked about integrity, she talked about the need to follow through. "It's when you make a commitment, you deliver on that commitment, which means if you can't deliver on it, you let them know why you can't and when they can expect the delivery on that commitment. It's really important," she said.
In terms of her third leadership milestone — accepting personal responsibility — she noted: "We all make choices, and sometimes people are blaming where they are on other people. And let's be honest, we make choices that put us in the positions where we are."
Having a view of the bigger picture is especially true working in healthcare, according to Conroy.
"We're in this because we are committed to something bigger than ourselves," she said. "It's not a personal or financial gain that drives us; it is taking care of other people, creating a healthcare system that works for both providers and patients; it is being committed to the big picture. And that's actually what keeps people going."
In summing up her thoughts about her guideposts, she said, "Those are the four tenets that I have, and I've tried to put everything up to that lens in my behaviors and my decisions to make sure they're the right ones."
Dartmouth Health, with more than 13,000 employees, is New Hampshire's only academic health system and the state's largest private employer. It serves patients across northern New England, providing access to more than 2,000 providers in almost every area of medicine, delivering care at its flagship hospital, Dartmouth Hitchcock Medical Center (DHMC) in Lebanon, network of hospitals, clinics and care facilities throughout the Granite State's North Country and into Vermont.
On the same day as the FedPoint discussion, it was announced that Dartmouth Health was recognized by U.S. News & World Report as New Hampshire's best hospital in the U.S. News Best Hospitals 2022 rankings.
Conroy, president and CEO since 2017 when it was known as Dartmouth-Hitchcock Health until this year, was invited to speak at the FedPoint headquarters as part of the company's distinguished speakers series.
FedPoint administers the Federal Long Term Care Insurance Program (FLTCIP), the largest group long-term care insurance program in the country. It currently oversees policies for more than 265,000 federal civilian and military enrollees.
Until its rebranding in 2020, FedPoint was known as LTC Partners, a wholly owned subsidiary of John Hancock Life & Health Insurance Company. The company is located on Arboretum Drive on the Newington side of the Pease tradeport.
The company employs several dozen registered nurses who provide care coordination services for claimants and family members, and nursing was one of the topics discussed by Conroy and Forte during their Q&A discussion. There was also time at the end of the presentation for questions from the audience.
One question dealt with the so-called Great Resignation — a term applied to workers who, during the pandemic, have left their jobs and either have quit the workforce altogether or who quit one profession to seek out another. The question specified nurses.
"We've had a nursing crisis bubbling for probably 10 years. We have been tracking the fact that we probably were not training the nurses in the numbers that we needed. Covid accelerated it," said Conroy. "I think nurses made decisions not to work in an inpatient unit; they're looking for something that gave them a little bit more balance."
Conroy would like to see a model for nurses that offers more flexibility for where and how many hours they work, a model akin to what she described airlines using for flight attendants. "They figured out how to match a talent pool with their needs across a really broad area," she said. "The onboarding, the competency list for a lot of nurses is a lot longer than flight attendants, but still they figured out how to do it across a pretty large talent pool. We should be able to figure out how to do that.
"We should be able to train people on basic competencies that people need to have and figure out how do you mobilize them and actually move them around from hot spot to hot spot," she added.
Another focus of Conroy's discussion was the mental health of the organization's employees.
Forte asked about a West Coast psychologist that Dartmouth Health hired during the worst of the pandemic as a response to the emotional burden that staff was carrying.
"We realized that they probably would benefit from a free psychologist who is not paid by the hour. Their job was just to manage this panel of residents — about 400 residents — and really work on improving their mental health and well-being," she said. "We're talking about how do we do that for the rest of our employees because it's been so well received by the residents, to just have somebody to talk to. And it's not just Covid, it's not just taking care of Covid. It's something they have that's going on in our lives outside of our jobs."
"I think every dollar we invest in trying to just listen to people and help them be resilient is money well spent," she added.
The politicization of medical care that elevated during the pandemic isn't new, according to Conroy. The country experienced the same kind of polarization during the 1918 flu epidemic, often referred to as the Spanish Flu.
"People would attack each other in the streets for wearing masks," she said. "I think it's kind of that pandemic psychology that we probably didn't appreciate happened in 1918. But when you read the letters that people wrote back then, it was actually very similar to the things we went through during Covid."
Conroy received her undergraduate degree in chemistry from Dartmouth and a medical degree from the Medical University of South Carolina, where she completed her residency in anesthesiology and served as chief resident.
Before coming to work in New Hampshire, she was CEO of Lahey Hospital and Medical Center, in Burlington, Mass. Prior to Lahey, Conroy served for several years as Chief Health Care Officer for the Association of American Medical Colleges in Washington, D.C.
Conroy is slated to become the next chair of the American Hospital Association in 2024.
As for the future of healthcare itself, Conroy believes techniques such as telehealth are not only here to stay but one way to help keep healthcare costs down.
"We didn't really do telehealth before Covid, and then all of a sudden we realized we can," she said. Meeting remotely with a telehealth professional is particularly helpful for people with mental health issues, according to Conroy.
"It works for the patient. Our no-show rate is almost zero," she said, adding that it removes what she called "the stigma" sometimes attached with going to an office.
"A lot of adults are really happy to do their telehealth visit from the comfort of their own home or some private space rather than actually going to a psychiatrist's or psychologist's office," she said. "I would say that we have a lot of our senior patients that like telehealth. I actually have not seen my primary care for like three years, and you realize how much you can actually accomplish over a telehealth visit."
The cost benefit of a telehealth visit, said Conroy, is fewer lab tests.
Health care institutions can't think of themselves as working in isolation, according to Conroy.
"We have this mantra that nobody has to worry alone," she said. The same mantra applied during the pandemic as some hospital CEOs in the Granite State struggled to find beds for the burgeoning number of Covid patients.
Using the New Hampshire Hospital Association as a coordinated means of communication, Conroy said, "We were meeting every single day to talk about beds for patients and ICU beds and ventilators. And we had this mantra: No CEO worries alone in New Hampshire."
For example, when Elliot Hospital in Manchester had an overflow of Covid patients in its emergency department, Dartmouth Health stepped in to help find some beds, according to Conroy.
"It was a huge help for them to get their balance again and continue to care for patients in that community," she said. "I think that is the role of health systems: working together across our region."