Dartmouth grad's startup backed by battery tech leaders
Alta Motors will expand electric motorcycle production by summer's end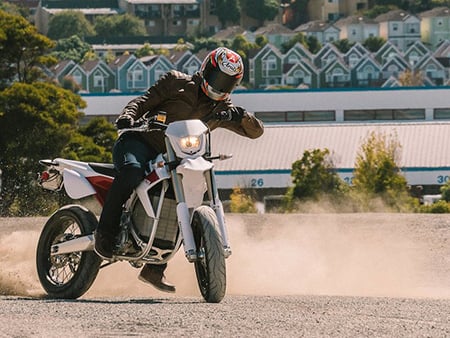 Co-founded by Dartmouth grad, Marc Fenigstein, California-based Alta Motors is preparing to launch the second model in its lineup of electric motorcycles by summer's end, but its technology may be poised for even further endeavors.
Alta Motors has developed a high-density battery pack it claims is the smallest in the market, but does not compromise on power. Fenigstein told Business Insider, he plans to eventually sell the battery pack and drivetrain to other companies working on lightweight vehicles and delivery drones.
"We've advanced transportation battery technology I think more significantly than anyone since Tesla," Fenigstein told Business Insider, claiming the battery is five years ahead of the curve in terms of range and power.
And Fenigstein's claims are promising, considering the firm has received backing from Martin Eberhard and Marc Tarpenning, two of the original cofounders of Tesla before Elon Musk became CEO in 2008.
After leaving Tesla, Tarpenning and Eberhard participated in a $4.5 million seed round in 2014, and have remained passive advisors to Alta Motors.
Founded in 2010, Alta Motors released its first product last August: the Redshift MX, an electric off-road motorcycle that can drive 2.5 hours on average and 40 hp and 120 lb.-ft. of torque. The motorcycle is selling for $14,995 in the U.S., though accessibility at dealerships has been limited while the company scales up production.
But by the end of this summer, Alta Motors will put its Redshift SM on the market. The $15,495 SM is designed for people who want to use a motorcycle for shorter, urban commutes. It also gets 40 hp and 120 lb.-ft. of torque.
The SM, which has a range of 50 miles, is sold out through the end of 2017, Fenigstein told Business Insider, but he declined to give exact sale and pre-sale figures for the MX and SM.
In addition to selling its battery pack and drivetrain technology director to other companies, Alta motors also plans to add two more motorcycles to its Redshift lineup. Fenigstein did not provide specific timing for the pending projects.
In the small market of electric motorcycles, Alta Motors competes most directly with Zero Motorcycles, which sells similarly priced electric bikes with slightly more power.
Alta Motors recently closed a small financing round of $27 million led by Grassy Creek Ventures.
"We are very excited from this foundation to get our technology in the many corners of the lightweight vehicle market as we can," he said.