Dartmouth details $200 million Thayer School expansion
Project incudes 160k-square-foot addition, 348-space underground garage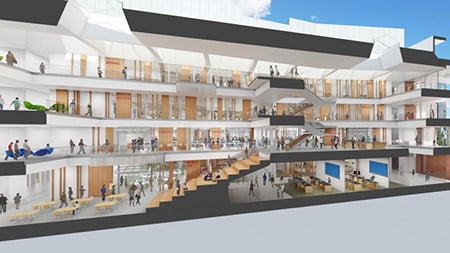 Dartmouth College has unveiled plans to build a $200 million expansion of its campus, including a 160,000-square-foot addition to the Thayer School of Engineering.
College officials met with the Hanover Planning Board to get the OK for their plans, which includes a three-level, 348-space underground parking garage, a new space for the Thayer School and construction of a new the Magnuson Center for Entrepreneurship.
A site review is scheduled to be held on Oct. 10.
John Scherding, the college's vice president of planning, design and construction, is overseeing the project. Among others on the construction team are Samir Srouji of Wilson Architects, Turner Construction Corp., Engineering Ventures, landscape architectural firm Michael Van Valkenburgh Associates, HLB Lighting Design, and acoustics consulting firm Acentech.
Construction is expected to start in 2019 and be completed in 2021.