Daniel Webster College sells to for-profit tech school ITT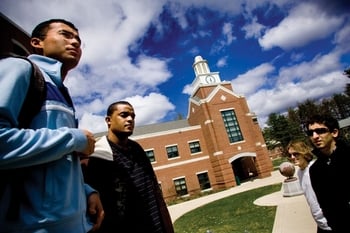 NASHUA – Daniel Webster College, a private college known nationally for its aviation program, announced Thursday that it has agreed to sell to ITT Educational Services, a chain of for-profit schools.
ITT, which operates more than 100 technical schools nationwide, said it will keep the Daniel Webster name, curriculum and staff. But the Nashua college will no longer be a nonprofit institution.
Daniel Webster College President Robert "Skip" Myers said ITT has plans to eventually expand Daniel Webster into a regional and then national brand of schools.
Myers wouldn't specify a sales price. Rather, he said ITT would make a total investment of $40 million after assuming $20 million of the college's debt and making immediate investments such as $4 million in faculty contracts.
The college has an appraised asset value of around $26 million, he said.
An e-mail announcing the sale of the college was sent to students and faculty Thursday morning.
Daniel Webster College officials saw a rare chance to escape debilitating debt and the opportunity to greatly expand its academic offerings when it accepted ITT's purchase offer, Myers said.
"The value of the degree is going to be enhanced," he said.
ITT officials told Myers and the college's trustees that it chose DWC over 3,500 other private colleges because of its current academic standing and its goal to expand.
The board of trustees unanimously approved the sale, which now needs to pass several regulatory and legal hurdles before being completed by a June 30 deadline.
Like other small colleges with small endowments, DWC had struggled even before the economy worsened, said Myers, who joined the college as president in 2005.
Facing a $20 million debt with meager resources has forced DWC to freeze staff positions and drop student programs – deep cuts that made each passing school year tenuous, he said.
"We're constantly in cutting mode," Myers said in an interview. "There was no more fat; only muscle and bone."
By contrast, ITT is a $1 billion institution that has $160 million in cash to spend on a college like DWC, Myers said.
Although for-profit colleges have faced criticism in recent years about their recruiting tactics and the quality of their programs, the industry is profitable, particularly now that the nation is in a recession.
ITT, based in Carmel, Ind., a suburb of Indianapolis, made nearly $62 million in profits in the first three months of this year alone. That's a 45 percent increase over the first three months of 2008, the company reported. New student enrollment increased an eye-popping 37 percent.
Glenn Tanner, chief marketing officer for ITT, said the increase is tied to labor statistics that show a person with just a high school diploma is twice as likely to be unemployed as someone with a college degree.
ITT offers associates and bachelor's degrees, but is best-known for hands-on courses that prepare students for specific fields such as IT or criminal justice. The company also runs an online program that offers degree levels up to an MBA.
Daniel Webster has not historically accepted transfer credits from ITT, but it's unclear how the college will reconcile that issue.
Thomas Horgan, president of the New Hampshire College and University Council, said a transition from a nonprofit institution to a for-profit school is "very significant."
Although students may not notice a change in academics, transforming to a for-profit institution means a change in philosophy, Horgan said.
"They have to answer to shareholders; they have to make a profit," he said. "There's a shift in the focus, a shift in the way decisions will be made."
Horgan's organization is a nonprofit consortium of colleges and universities in the state. Horgan said Daniel Webster College is currently a member, but changing to for-profit status would disqualify it.
"I've talked to a couple of the other college presidents and we'll likely have some conversations about that," he said, hinting that an exception could be made.
Horgan described the college as "an important piece of the fabric of higher education in New Hampshire."
The good news, Horgan said, is that the college will remain open and will likely benefit from the influx of funding it will receive from ITT. But having a residential, for-profit college is a first for the state and is unusual, he said.
"They are usually only store front or online," he said.
Myers spent much of the day Thursday meeting with students and faculty. During a meeting with faculty in the afternoon, he answered questions from about what this would mean for the college.
Myers said much of the $40 million from ITT would be used to improve infrastructure. For example, there have been lingering asbestos issues in seven buildings on campus that will be fixed, he said.
College faculty will retain control of the curriculum, Myers said. The college's 25-member board of trustees will be reduced to seven to nine members, one of whom also will be a member of the corporate ITT board, he said.
Myers said ITT would bring with it several "revolutionary ideas," such as performance bonuses for staff, enhanced benefit packages and stock options.
Daniel Webster College will remain autonomous from any of ITT's technology-oriented programs, with the faculty continuing to run academics and complete separation, Myers said.
The name will remain except for a minor alteration: After the sale, it will be eventually known as Daniel Webster University.
Distinction as a university will allow Daniel Webster College to not only increase students and faculty on the Nashua campus, but it would fit with the school's and ITT's goal to offer a "learning network" that will stretch across New England and eventually the country, Myers said.
The network will include satellite campuses and learning via the Internet, he said. ITT's financial strength will enable that growth, Myers said. Despite being part of DWC's master plan, growth has been impractical with financial difficulties, he said.
Now the college can restore programs, hire more faculty, increase residential students from 750 to as much 1,500 and build the necessary housing, Myers said.
Then, the school can expand in New England within five years and then across the country five years after that, he said. It wouldn't be inconceivable to see a Daniel Webster University campus in Seattle near a Boeing aviation facility, he said.
Myers said he couldn't envision tuition decreasing, but predicted that "major" tuition increases wouldn't be necessary because ITT's capital investments would drive down the "cost basis" to run the school.
The college increased tuition by 4 percent next school year, and has tried to keep those hikes to low single-digit percentages, he said.
Myers first floated the idea of a sale around three years ago to a friend who works as a higher education attorney in Washington. His friend reached out earlier this year and said Myers should accept a phone call. ITT had interest in acquiring Daniel Webster.
ITT officials flew from the company's Indiana headquarters to Boire Field in Nashua, adjacent to the Daniel Webster campus. After discussions and studies, both sides liked what they saw, Myers said.
ITT helps people change careers and enter the technology sector with its 2-year programs, but it wanted to branch out, Myers said. Daniel Webster College's accredited four-year and master's degree programs were attractive to ITT, he said.
Myers said he and Kevin Modany, the president of ITT, would be meeting privately with college stakeholders Friday.
The New England Association of Schools and Colleges has already approved the sale, Myers said. A hearing with the New Hampshire Postsecondary Education Commission is slated for May 14.
Legally, the sale needs probate court approval on two ends: moving the private school out of a charitable trust to the framework of a company; and determining who will administer assets donated to the college under the assumption it would remain a nonprofit entity.
Although the college grew under its aviation programs – piloting, air traffic controlling and airline administration – class enrollment in those three areas has ebbed over the past few years, Myers said.
The pilot program has particularly seen sharp drops because of the high tuition debt that saddles students upon graduation and the declining number of jobs in the industry, he said.
The college now has more students in computer science, engineering and homeland security programs than it does in the three aviation programs, Myers said.
Horgan, the New Hampshire College and University Council president, said the lack of support from the state for higher education institutions likely played a role in the need for Daniel Webster College to sell.
"New Hampshire is a state that historically has not invested in higher education," he said. "Our nonprofit colleges struggle because we have the lowest scholarship assistance in the country."
Studies have shown New Hampshire college students graduate with an average debt load well above the national average.
Horgan said small private colleges, like Daniel Webster, have been forced to take on an increased debt load over the past several years.
"Hopefully the new ownership will provide Daniel Webster College the resources it needs to be successful," he said.
Horgan said he didn't know of any other nonprofit colleges in the state considering a sale to a for-profit company.
Hesser College, owned by Kaplan, and McIntosh College are the only other for-profit colleges in the state, Horgan said. McIntosh College is in the process of closing.