Daniel Webster celebrates 10th year as a 'cohort' pioneer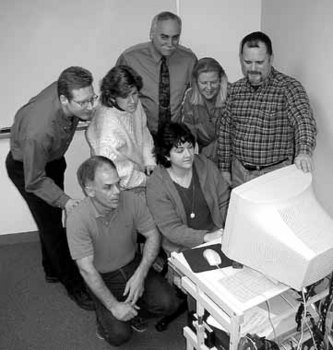 The year 2004 marks the 10th anniversary of Daniel Webster College's EXCEL degree completion program, which enables working adults with some college credit to complete their degrees by attending class one night a week for 18 months.
The program is based on the "cohort" model of experiential learning under which a cohort, or class of students, stays together, learns together and works together throughout the entire program.
DWC is a pioneer of the cohort model in the region, according to DWC's Professor Neil Parmenter.
DWC's Dr. Doris Jafferian conceived the original EXCEL program based on this distinctive method of teaching and worked with a think tank in Reston, Va., to put the finishing touches on the format. Now retired, Jafferian, formerly a professor of business and management and department chair at the college, was recently named professor emeritus for the work she did while at DWC, including spearheading establishment of the EXCEL program.
What sets the EXCEL format apart is its incorporation of group activities that mirror a typical organizational environment. By becoming part of a group that makes decisions collaboratively, EXCEL students plan, develop and complete work-related projects that reinforce marketable, work-related skills. Basically, cohort members learn by doing.
According to Mary Hilton of Nashua, a 2004 EXCEL graduate, "I was 50 years old and had waited almost 30 years to complete my degree. Whenever I needed help, someone from my cohort was always there, offering assistance and encouragement. I have formed ties and bonds that will last a lifetime."
According to Parmenter, who heads up the EXCEL program in the college's Business and Management Division, "the program always has been popular with adult learners, and we are not standing still. We have made changes over time based both on the experiences of our students and what we have learned ourselves over the past 10 years."
Two years after DWC first began offering EXCEL, the college integrated Internet access into the classroom. This was followed by the inclusion of a comprehensive Internet environment for both students and instructors, which enabled the college to provide a number of on-line activities, like discussions and collaborations, posting links for research and communication with instructors. All of this further enhanced interaction among cohort members, to the benefit of students and their instructors, said Parmenter.
About five years ago the program's individual research project was changed to a "capstone project" that pulled from all of the courses that students took at DWC. Now, up to 10 members of a cohort conceive and develop a business plan as a group, and, after many weeks and perhaps months of work, present it to other students, faculty, friends and family in a formal public presentation in the form of a venture capital request.
According to Brian Flanagan of Salem, an instructor of the capstone module, "every student can take the skills they acquired as a member of a cohort — and particularly those they learned while developing and presenting their capstone project — and bring them into their working world and get results. That's the magic of the program."
Over the years the college has built an impressive team of instructors who are dedicated to teaching the cohort model, like working with highly motivated adults and are able to offer suggestions for program improvement, Parmenter said, adding that faculty having "the right balance of academic and practical experience is key."
Daniel Webster offers the EXCEL bachelor of science degree program in organizational management, management and information technology and marketing management. DWC also offers an MBA degree, also based on the cohort model.
For more information, call 577-6500 or visit dwc.edu.