D-H plans for $22 million palliative care center
Jack Byrne Center will meet needs of patients with life-limiting illness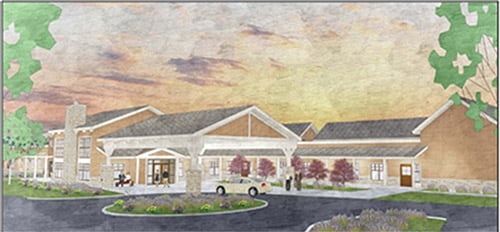 Ground was formally broken June 22 to mark the start of construction of the $22 million Jack Byrne Center for Palliative and Hospice Care at Dartmouth-Hitchcock Medical Center in Lebanon.
An advanced clinical facility, the center will provide integrated care for patients with life-limiting illness and complex medical needs and to strengthen palliative and hospice care region-wide.
In March, Dartmouth-Hitchcock trustees approved construction of the center, pending successful fundraising efforts to cover much of the construction costs. Site preparation has been under way since May.
Plans call for the center to open in late 2017.
A $10 million gift from the Jack & Dorothy Byrne Foundation in 2014 covers almost half of the $22 million cost of construction of the 12-bed center, which is being built to fill a growing need for specialized care for seriously ill people who are enrolled in hospice but whose pain or other medical needs are difficult to manage elsewhere.
"Too many people are still dying in ways they would not want, often in intensive care units, connected to machines," said D-H CEO Dr. James N. Weinstein. "Through the efforts of our dedicated team, we have built an internationally respected palliative care program at Dartmouth-Hitchcock, and thanks to the enduring commitment of the Byrne Foundation and our other supporters, the Jack Byrne Center will enable us to better address the physical comfort, emotional and spiritual well-being, and inherent dignity of each patient and his or her family."
'Immediate benefits'
The Jack Byrne Center program will be developed and administered by Visiting Nurse and Hospice for Vermont and New Hampshire, working in collaboration with providers from Dartmouth-Hitchcock's Section of Palliative Medicine. The Center staff will work with hospice providers from across northern New England to smooth transitions of care for patients and families, said Jeanne McLaughlin, CEO of VNH.
"As the leading licensed hospice provider with the skills, reputation and regional focus, this partnership allows us to continue to provide ongoing excellent care for our communities," said McLaughlin.
Regional providers and family caregivers will also be encouraged to draw on the Jack Byrne Center for education and training in palliative and hospice care, with a goal of increasing their capacity to care for the majority of hospice patients who wish to spend the end of their lives in their own homes, said Dr. Kathryn B. Kirkland, interim chief of D-H's Section of Palliative Medicine. "It will bring immediate benefits by providing a specific kind of care currently unavailable in the Upper Valley to hospice patients with high-acuity symptoms that cannot be managed at home. Providing sophisticated care in a homelike setting improves the hospice patient's experience, and optimizes utilization of the region's acute and tertiary care beds."
According to Dr. Ellen A. Bassett, director of hospice planning at D-H, there's a common misperception that palliative care and hospice means that patients are giving up.
"People think it's about dying well, but it's about living well in the context of the reality that you don't have long to live," said Bassett. "Our care is fully interdisciplinary; it's not just nursing care and medical care, but social work, spiritual care, healing arts, creative arts, pet therapy, and music therapy."