Cubby Notes founders win 'Ultimate NH Connection'
Dave and Jen Coffin meet with governor, business leaders in Live Free and Start competition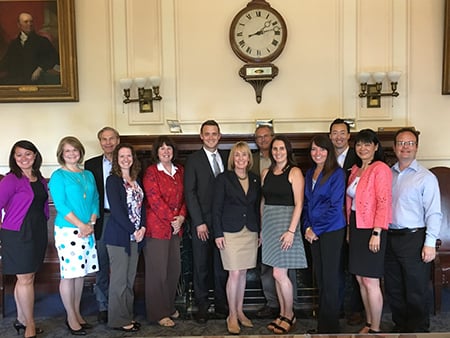 Cubby Notes, founded by Dave and Jen Coffin of Dover, has been named the winner of this year's "Ultimate NH Connection" Tech Startup Competition.
As a result of their win, the Coffins took part in an hour-long meeting on Tuesday with Gov. Maggie Hassan and a roundtable of Live Free and Start Advisory Council members, industry experts and childcare professionals who will help connect them with resources to help accelerate their business.
Cubby Notes is an app that gives caregivers and parents one place to communicate, share information and improve the care that children receive.
"Cubby Notes is the kind of innovative business that will help New Hampshire lead the way in the 21st century economy, creating good jobs that help expand middle class opportunity and providing an important service that will facilitate communication between childcare providers, caregivers and families," Hassan said.
Cubby Notes streamlines the process that caregivers use to track information, share photos and communicate with parents.
Cubby Notes, founded in August 2015, was recently featured as one of Live Free and Star's Innovators of the Week, and is a recent graduate of Alpha Loft's 2016 Accelerate NH program.
Dave Coffin said that "thanks to the vibrant startup community in New Hampshire and amazing resources for new entrepreneurs, we are able to take our idea to make our lives better and turn it into a business to help people all over the country. We are putting a lot of time, thought and love into this company, and being selected for the 'Ultimate NH Connection' competition will help us find new ways to push our business in the right direction."
In addition to the governor, the Coffins met with:
• Shaunna Babcock, executive director of the NHTI Child and Family Development Center
• Todd Boucher, founder of Leading Edge Design and member of the Live Free and Start advisory council
• Howard Brodsky, chairman of CCA Global Partners
• Jackie Cowell, executive director, Early Learning NH
• Joshua Cyr, director of education and acceleration at Alpha Loft
• Margaret Donnelly, Co-founder, AlignMeeting and member of the Live Free and Start advisory council
• Liz Gray, director of entrepreneurship, Live Free and Start
• Cellissa Hoyt, state project director, Early Learning Alliance of NH
• Mark Kaplan, CEO, Alpha Loft and member of the Live Free and Start advisory council
• Denise Sayer, vice president, CCA for Social Good