CruCon opens new headquarters
30,000-square-foot complex unveiled in Moultonborough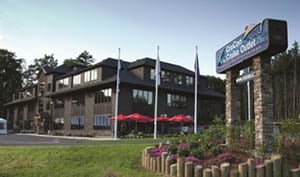 Moultonborough-based CruCon Cruise Outlet officially unveiled its 30,000-square-foot headquarters on Whittier Highway last month with a celebration that attracted more than 2,500 people.
The fast-growing specialty cruise travel agency, founded by Sandra Cleary in 1995, is expecting to employ 150 people by the end of 2014.
The new steel-frame building features an auditorium with stage and electronic presentation capabilities as well as a recreation room, exercise room with men's and women's locker rooms and showers, a staff lounge and an area to provide training. The parking lot holds 150 vehicles.
Contractor for the project was Jason Drouin Custom Homes, Gilford, and design was by architect Dann Norris Batting of Chester.