Cremation Society taps online market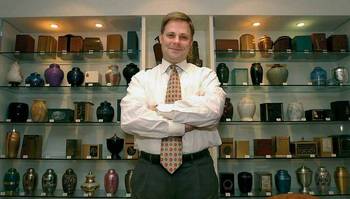 A loved one passes away. You reach for the phone to begin making arrangements, wind up sharing emotional moments planning final goodbyes with a complete stranger and spend thousands of dollars on ornate caskets and formal services.
That's just the way it works – or is it?
Not necessarily, says Arthur "Buddy" Phaneuf, fourth-generation funeral director and owner and president of the Cremation Society of New Hampshire, where cremation services are just as easily secured via the Internet as they are with a phone call or visit to their Hanover Street location.
All it takes is a home computer, a credit card and a few free minutes to secure end-of-life arrangements for yourself or a loved one thanks to the quick, private and cost-effective online process offered by CSNH at its Web site, csnh.com.
Package prices for cremation services start as low as $945 for members choosing the basic package, which includes professional services, transportation of the body from anywhere in the state, medical examiner fee, use of refrigeration, cremation container and crematory fee. The most expensive package is $1,945 for members and includes a custom urn, memorial record, staff and equipment needed to hold a memorial service and use of the facility's chapel or church.
Becoming a member of the society enables consumers to preregister, making end-of-life requests known prior to their own or a loved one's passing, and entitles them to membership pricing that is about $200 less than nonmember pricing. A one-time $30 fee is charged for membership.
Currently 70 percent of CSNH customers are members, and it's an idea that is continuing to catch on. Last year, CSNH handled 800 cremations, with new memberships and prepayments bringing in over $1 million, according to Phaneuf.
"By preregistering, patrons gain peace of mind associated with knowing everything will be taken care of at the time of death," Phaneuf says. "Because of this, we have seen the need to sit down with a counselor to plan arrangements fall from 100 percent to maybe 10 percent – this is very cost-effective and allows the costs of services to remain low."
Additional services and items, including urns, also can be purchased, as can "World Travel Protection," which covers transportation costs should a loved one die while outside of New Hampshire.
Arrangements to scatter remains off the coast of the Isles of Shoals or five miles into the earth's atmosphere also can be made, and DNA can be preserved as well, according to Phaneuf.
Personal and private
Even with those added purchases, arrangements through the Cremation Society – via the Web site, over the phone or in person – cost thousands less than traditional funeral and burial services, says Phaneuf.
And while some find the idea of making cremation arrangements through the Internet impersonal, Phaneuf believes a second glance will shed light on the benefits.
"I would argue it's much more personal. Services can be held at a park or Dad's favorite vacation spot – it can be very special. People have absolute 100 percent control of every aspect," says Phaneuf, whose family business, Phaneuf Funeral Home, has been in Manchester for 100 years. "People need to understand, for many families cremation is just the process, much like embalming would be for a burial. Once the family gets the urn and the ashes, they are still able to get as elaborate and creative as they'd like with their arrangements,"
For Paul Kling, owner of Paul's Alignment Service in Concord, the recent passing of his mother Hazel supported Phaneuf's beliefs.
"My mother was a very sensitive person — everything about her was immaculate, and I knew that would have to be the case with this whole process," says Kling. "We were able to spend time with my mother after she died, before they moved her. Every step was explained, and even after the cremation, the presentation of the ashes to us was a special process – the urn was presented from atop a pedestal."
Kling chose to add his mother's wedding ring to her ashes before burying the urn in a Pennsylvania cemetery beside his father, who had been buried 38 years ago wearing his wedding ring.
"They absolutely loved one another, and I wanted those rings to be as close as possible," Kling says. "A hundred years from now those rings will still be together."
This, Phaneuf says, is a major difference in selecting cremation through the CSNH – families once again regain control over the entire process surrounding final goodbyes, something that has otherwise been controlled and dictated by the funeral home.
Growing demand
The demand for cremation has grown in popularity over the past decade, with more than 50 percent of New Hampshire families now choosing the service over a traditional burial. Changes in religious beliefs, demographics and ecological concerns have contributed to the growing acceptance of this service.
"People used to look at cremation as a substandard service," said Phaneuf. "People have discovered that they can have a service that is just as meaningful – sometimes even more so – through cremation."
The growing trend toward cremation prompted the Phaneuf family to build their own crematorium in Manchester — four blocks from City Hall — in 1994.
"For us it meant one more thing we could offer our customers," says Phaneuf, adding that visitors to the 15,000-square-foot facility are often surprised to find welcoming chapels, business offices and retail space above the spotless, well-maintained crematorium.
Having their own in-house crematorium gives staff at the Cremation Society better control over the process and customers the peace of mind that goes along with knowing their loved one is being treated with respect.
The original decision to offer cremation services to those other than their funeral home customers via the Cremation Society was in response to public demand and based on similar offerings in other parts of the country, says Phaneuf.
"Funeral homes tend to be geographically bound, and while we were offering cremation services to our local families, we found we were getting more and more requests from people as far away as Berlin and Keene," Phaneuf said. "We thought, 'Clearly, there's a market here for people who wanted cremation services without all the other things that typically went along with it. They'd come to us for cremations and then have the service they wanted at their own church, or wherever they liked."
Thus the decision to offer online services was just another step in the evolution, Phaneuf says: "We realize it's not going to be for everybody. It's just another option for our customers."