Credit union wins OK for Peterborough branch
New facility for Mass.-based GFA scheduled to open later this year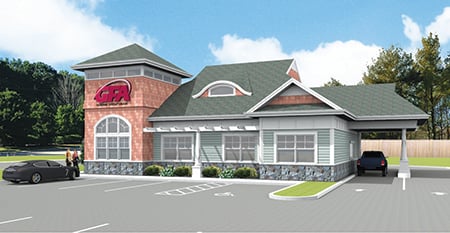 GFA Federal Credit Union has received approval from the Peterborough planning and zoning boards to build a new branch in the town.
Construction of the building at 99 Grove St. is expected to begin in the spring, with completion scheduled before the end of the year, credit union officials said.
"We are very pleased to have received the level of cooperation and interest in our relocation from the various committees in the town of Peterborough," said Tina M. Sbrega, CEO of GFA. "It's been a very smooth process and their approach has been extremely business-friendly."
GFA first entered the Monadnock Region market in 2012 when it merged with Monadnock Community Bank, making GFA the first credit union in the nation to purchase a stock-owned bank.
In addition to the new Peterborough branch, GFA's headquarters in Gardner, Mass., will be undergoing an expansion of more than 25,000 square feet. Sbrega said construction plans are still in the development stage.