Creator of holiday favorite appears in Nashua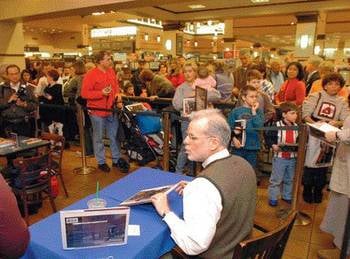 NASHUA – When Ellen Cutcliffe's daughters were young, they were fascinated by "The Polar Express."
Now, Cutcliffe wants to introduce her 2-year-old granddaughter, Sophie, to the book that excited her children year after year.
Cutcliffe is among the hundreds of people who braved freezing rain to get an autographed copy of the book that brings them to the North Pole – at least in their imaginations.
Chris Van Allsburg, author and illustrator of "The Polar Express" – the children's book recently adapted into an animated film starring Tom Hanks – signed copies of his books at Barnes & Noble at 7 p.m. Tuesday.
More than 300 people waited for hours, snaking through racks of bookshelves for a chance to meet Van Allsburg. The line, which began forming at 3 p.m., was reminiscent of the wait for a rollercoaster on the sunniest Saturday in July.
Vicki Belanger, who works at Barnes & Noble and was directing people to the end of the rapidly growing line, said the crowd reminded her of the day another famous children's book was released.
"Right now it's reminding me of when we released Harry Potter," Belanger said, handing tickets to everyone who walked in the door. "We were all saying for weeks that it would be like this."
Pamme Boutselis, community relations manager for Barnes & Nobles in Nashua, said the response to the signing was overwhelming. Since its original publication in 1985, three million to four million copies of "The Polar Express" have been sold and it has been reprinted 43 times, she said.
Van Allsburg also wrote "Jumanji," which was made into a film starring Robin Williams in 1995, and 13 other picture-based children's books.
The signing was intended to be for all of the author's books, but most of the people in line carried a copy of "The Polar Express."
Susie Desrosiers of Nashua said she reads "The Polar Express" to her daughters, Kayla, 10, and Katrina, 8, every Christmas. Katrina held a copy of proached the final stretch of the line.
"It really makes you feel like you're in the North Pole," Desrosiers said.
Kayla held a copy of "Zathura," which she described as a book about a young boy learning to be nice to his brother. She had an excited smile on her face as she recited the plot of the story. Her mom said Van Allsburg's books are often adventure stories that also teach children a lesson.
Kayla and the other kids in line were not the only ones excited about meeting Van Allsburg and getting an autographed copy of his book. The line was comprised mostly of adults.
Boutselis, who stood next to the author as he signed books, watched the excitement in people's faces as they walked away with their signed copies.
"You look at their faces, particularly the adults," she said. "They look like they've just won the lottery."
Kris Smith, of Nashua, agreed that "The Polar Express" is a book for both adults and children.
"It appeals to everyone of all ages," said Smith, who has been reading the book to her children, now 7 and 9, since they were babies.
For Cutcliffe, "The Polar Express" has become a family tradition because the story is an integral part her Christmas Eve memories.
"It captures the feeling, the spirit, the excitement of Christmas," Cutcliffe said.