Creare founder named 2015 National Academy of Inventors fellow
Retired Dartmouth engineering prof Robert Dean holds 28 U.S. patents, with five more pending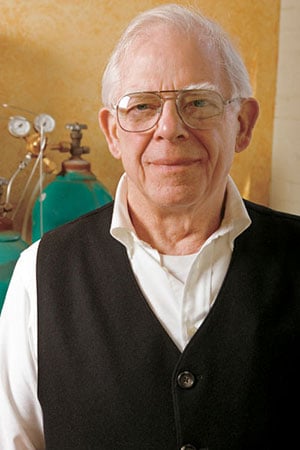 Robert C. Dean Jr., a retired Dartmouth College engineering professor and founder or co-founder of 10 high-tech companies – including Creare, Hypertherm and Nanocomp – has been named a fellow of the National Academy of Inventors.
NAI fellows are honored for innovation in areas such as patents and licensing, discovery and technology, significant impact on society, and support and enhancement of innovation.
Dean, who currently serves as president of Lebanon-based Synergy Innovations Inc., holds 28 U.S. patents, with approximately five patents pending, and numerous foreign patents.Dean is the founder or co-founder of 10 companies:
• Creare (contract R&D in the thermal/flow and medical sciences)
• Hypertherm Inc. (world's largest manufacturer of plasma-arc metal-cutting equipment)
• Creare Innovations Inc. (xerography and motion control)
• Verax (mammalian-cell culture systems for biopharmaceuticals production)
• Synosys (biotechnology instruments and process equipment)
• Synergy Research Corp. (motion-control, reprographics engineering and bioengineering)
• Synergy Innovations Inc. (innovation and new venture creation)
• SIMBEX (injury-prevention and rehabilitation products)
• Nanocomp Technologies Inc. (carbon nanotubes and products)
• Synticos (abrasive slurry jet cutter of anything)
Dean, who received one of the first Tibbetts Pioneer Awards in recognition of his contributions to the Small Business Innovation Research (SBIR) program, was named the NH High Tech Council's Entrepreneur of the Year in 1998.
Dean joins Dartmouth engineering professors Eric Fossum, Tillman Gerngross, Elsa Garmire and Axel Scherer as NAI fellows.