CRDC helps Company C remain in Concord
Financing package allows home décor firm to purchase Old Turnpike Road building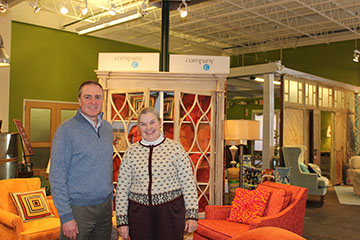 With the help of a loan provided by the Capital Regional Development Council, the owners of the Concord-based Company C home décor and furnishings business, have purchased the Old Turnpike Road building they had been leasing as a means of reducing their overall occupancy costs.
Company C, founded 20 years ago by Walter and Chris Chapin, whose products are sold by over 1,000 dealers worldwide, also has three retail stores, including the company's headquarters in Concord.
According to the CRDC, with their 10-year lease coming to an end and a need to expand, the Chapins – after several months of searching for a new building – decided to purchase the building they were leasing in Concord.
As part of the CRDC financing package, the Chapins rolled in the cost of a renovation project focused on installing energy-efficient lighting and other renovations to increase the size of the workspace.
"This really was a great project that once we crafted the deal, it actually reduced their overall occupancy costs," said CRDC loan officer Liz Sweeney. "The upgrades to the building plus the installation of the energy-efficient lighting really provided them with the building they always wanted without the need of moving."
CRDC, based in Concord, is nonprofit development corporation that provides a variety of economic development services and small business loans to businesses and local governments throughout New Hampshire.