Couple takes different sides of longtime, bitter rivalry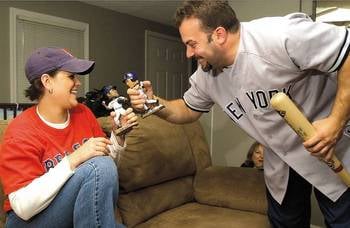 On the battleground that also serves as their living room, Lynn Lombardi and Jim Censabella spare no jabs.
Even their coffee table delineates their respective allegiances in the bitter hardball feud between the Boston Red Sox and New York Yankees: She's got a Pedro Martinez bobblehead doll on her side, and he's represented by the shiny new Alex Rodriguez model.
There is no demilitarized zone in their well-kept Litchfield home. From April to October – and occasionally in the off-season – Lombardi pulls for the star-crossed Boston team that never can, and Censabella loudly and proudly supports the machine-like New York squad that always does.
They exchange taunts, clever ripostes and loving wrestling hugs. They have built a relationship partly on a rivalry in which Censabella always has the last word, at least for now.
"We actually tried to get him out of the family," said Bill Gilbert, Lombardi's stepfather.
And to think Censabella, 35, was once one of us. A Sox fan frustrated by Bill Buckner's 1986 World Series gaffe – the error that still hurts more than Curt Schilling's ankle – Censabella visited Yankee Stadium and was converted, blinded by the holy light of countless World Series banners.
He was in the minority Wednesday night as Gilbert, Lombardi and her mother, Diane Lombardi, pulled for Martinez to relive his glory days in the crucial Game 2 of the American League Championship Series. Yet Censabella's status as sole Yankee fan bothered him little.
He especially appreciated Yankees fans chanting "Who's Your Daddy" squarely at Martinez, who in September euphemistically referred to the champs in pinstripes as having a hand in his parentage. It was a quip made after a game in which the Yanks owned him. The Yankees had slight possession of Martinez again in Game 2, touching him for three runs in six innings.
Censabella, wearing a vintage Reggie Jackson Yankees jersey, loved it, repeating "Who's Your Daddy" for his wife. Lombardi, wearing a David Ortiz T-shirt and Sox cap, could not believe the chant, but she also acknowledged that Martinez had made his own bed.
Don't misunderstand Lombardi; she hates the Yankees. But she accepts their successes, and even pays homage to their deadly lineup, one she recited batter by batter with a tinge of jealousy.
"The Yanks are a good team. What can I say?"
The couple, together for five years, will marry next month in Mexico. The next few days, and how Schilling's balky ankle withstands his next start, will only tell if Lombardi, 33, can exchange vows with a beam that demonstrates baseball bliss. Otherwise, Censabella will likely think of some Yankees quip to make his day whole.
Their 7-month-old daughter, Logan Simone Censabella, does not yet sense what divides her parents. Censabella, for now, approaches his little girl's entrance into this competition with neutrality: He wants to create a shirt for her, half Yankees, half Red Sox.
Logan's birth even had a touch of Sox and Yankees. She was born on a March day when Sox tickets went on sale; Censabella left the hospital to get some ducats for a Boston-New York match-up in September.
A Boston Globe photographer snapped the couple walking outside Fenway before that game. Frozen in time is Censabella letting loose one of those big, half-mocking laughs that comes from fans on the side of baseball dominance.
But Censabella's friends still unload unkind words on him. They've turned around his many Yankee bobbleheads, and they've thrown his Yankee bottle opener into the swimming pool.
He does lose one battle at home: most face-offs between the New York Jets, his team, and the New England Patriots, her team.
It's not all a War of the Roses, either. They share some interests. They like camping, and they have an affinity for the Boston Bruins. They just will never find common ground in baseball.
Lombardi will never abandon her Sox, as her fiance did. "Their day will come," she said.
But would Censabella concede a Yankee loss just to make his fiancee happy?
"I don't want Boston to win."