County attorney done in February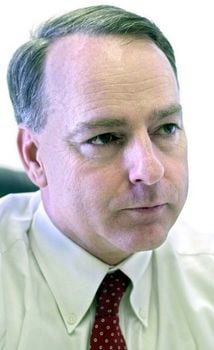 Hillsborough County Attorney John Coughlin will step down by early February – and possibly sooner – as he prepares to fulfill his military duty with the National Guard.
Coughlin, a Mont Vernon resident, submitted a letter of resignation Wednesday, as he had been planning to do since his National Guard unit was called to active duty late last month.
"During my administration, the administration of justice was served fairly, impartially, compassionately and without bias or prejudice," Coughlin wrote in the resignation letter he delivered to the county delegation office in Manchester.
Coughlin, who serves as the command judge advocate for the Headquarters Battery, 197th Field Artillery, of the New Hampshire Army National Guard, said his resignation would be effective Feb. 8, or sooner if the county legislative delegation appoints a replacement before that date.
The delegation is scheduled to meet Jan. 13 to discuss the appointment of an acting county attorney, Coughlin said. His replacement will serve until January 2005. The seat will be up for election in November.
Coughlin's unit is being called up to support Operation Iraqi Freedom, part of the mobilization of more than 700 members of the state Army National Guard in the past month.
Coughlin will be stationed at Fort Drum, N.Y., for about a month after his unit departs from New Hampshire on or about Jan. 8.
The prosecutor said he expects to continue to serve as Hillsborough County attorney during the transition period, and to be available by telephone, teleconference, e-mail and fax while at Fort Drum. He said his county pay will cease when he leaves New Hampshire.
Coughlin appointed Deputy County Attorney Howard Helrich to be responsible for the day-to-day operations of the office before his replacement is named.
Coughlin's top assistant, Chief Deputy County Attorney Scott Jordan, will step down Jan. 6, letting the new county attorney fill the key position.
Andrew Nelson can be reached at 594-6415 or nelsona@telegraph-nh.com.