Council picks new member to fill out term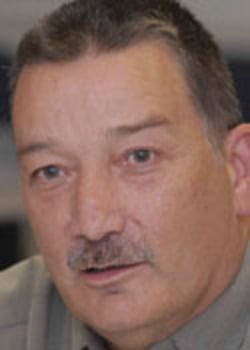 MERRIMACK – The town council on Wednesday picked a relative political newcomer to join its ranks, choosing David Yakuboff to serve as its seventh member until April.
Yakuboff will fill out the last eight months of a seat vacated last month by Betty Spence, who stepped down, she wrote, because of changes in government and personal issues.
Yakuboff, who was a charter commissioner, beat out two other men for the post. Dave Nichols, who serves on several town boards, and Dan Dwyer, who has run three other times, both also ran in April's election.
In his interview, Yakuboff said he wanted to give back to the community now that his children are grown. He said he was born and raised in Rhode Island, served in the Navy for almost 10 years and then took a job at Sanders in Nashua.
Yakuboff later decided to try his hand at business. His chimney sweep outfit grew into what is now All Basics Stove Shop in Merrimack, a wood pellet and gas stove operation.
Naming economic and general growth as major issues facing the town, Yakuboff said his experience with budgets would be an asset and that his worst attribute is being a "workaholic."
Councilor Mike Malzone challenged Yakuboff on his former charter commission membership because three other councilors were also members. Malzone asked if it was healthy for the town to have representatives with the "same values and voices."Yakuboff said the reason that councilors get on the board is because they are elected and for no other reason.
"In answer to your question, I don't think it affects it at all," Yakuboff said, adding that he remembered "fighting" with former charter members during its formation but that things always got resolved.
After the interviews, councilors discussed their positions. Malzone said he was "uncomfortable" with the process and thought voters should decide. In that vein, Malzone threw his support behind Dwyer because he earned the most votes in April behind the two winners. Councilor Nancy Harrington agreed with Malzone's comments and supported Dwyer.
Councilor Tim Tenhave supported Nichols, with Tom Mahon, Finlay Rothhaus and McCarthy voting for Yakuboff.
Three was not enough for a majority, so then Tenhave switched his vote, sealing the deal. In a show of unity, Malzone and Harrington then voiced their support for Yakuboff.