Council conflicts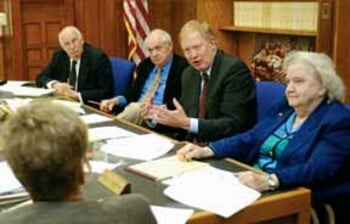 Executive councilors are blaming Congress in general, the state's congressional delegation in particular, as well as each other for bloating the state's proposed 10-year highway plan with new projects that will push older priorities further back in the schedule.
The recently passed federal highway bill level-funds New Hampshire at the same $150 million it has seen in the past. The state will receive 3 percent yearly hikes for inflation, but state officials say the prices of gas, oil and asphalt are rising much faster, and the inevitable funding gap will squeeze every line item in the spending package.
Many projects previously in the plan — which undergoes revision every odd-numbered year — have moved back a year or two. The federal statute also authorizes an additional $69 million in special New Hampshire projects. About half were already in the 10-year plan from previous years.
The biggest item on the federally authorized list is $20 million to ease gridlock on the Spaulding Turnpike with wider bridges across Great Bay at Dover Point. The current two-lane structures often choke rush-hour traffic back for miles, especially Friday and Sunday nights, when tourists are on the move.
The feds also have earmarked $6.7 million to build park-and-ride lots for Interstate 93 at Exits 3 and 5, $5.2 million to rebuild Route 110 in Berlin, $4.2 million for bridge rehabilitation in Hampton, $2.8 million to beef up the intersection of Route 3 and Industrial Drive in Franklin, $2 million to refurbish the intersection of Routes 11 and 28 in Alton, and $2.4 million to improve the Meredith traffic rotary.
Another $13 million will go to I-93 environmental mitigation projects and a $4 million study of water-quality issues related to the $450 million widening of that highway.
(The state has to solve a road salt pollution problem in the southern tier before it can open up a fourth proposed lane each way. Policymakers are confident they can meet the target of no additional salt contamination.)
Back and forth
At a recent meeting, Councilor Peter Spaulding, R-Hopkinton, chided North Country Councilor Ray Burton, R-Bath, for sneaking in five of these federal projects for his own district, some of which had never been vetted anywhere.
"How did these projects in Claremont get in here?" asked Spaulding at one point.
Burton thanked Republican congressmen Charlie Bass and Jeb Bradley for their part in tacking the 19 items into the national legislation.
"I don't see any congressmen listed as responsible for the 10-year plan," Spaulding responded.
"I'm not going to turn my back on $69 million they helped us get," Burton told Spaulding.
"I resent somebody doing an end run to get their projects into this plan," Spaulding said. "You can smile all you want, councilor. I'm not going to vote for any of these projects we've never seen before. They're a disgrace to the process."
"I support the projects in my district," Burton said.
"You would," Spaulding replied.
State Transportation Commissioner Carol Murray told councilors that the state might never receive all of the $69 million earmarked for special projects.
"Twenty percent of it was included in the new law, and we're earmarked to get another 20 percent in October," she said. "After that, the money is authorized on a yearly basis, 20 percent at a time."
The state's top two priorities have stayed the same, widening Interstate 93 and building the Manchester Airport access road.
Councilor Ruth Griffin, R-Portsmouth, said she was worried the state might never receive all of the money for these special projects. She also didn't like the process through which the special projects were developed.
"Someone else has been making decisions before we get this (plan)," she said. "I'm not supporting any new projects. They just knock out someone else who's been waiting for years."
Councilor Ray Wieczorek, R-Manchester, said the 10-year plan — already really a 14-year plan — could become an 18-year plan for lack of money.
As Murray explained, New Hampshire lost a highway budget fight with larger western and southern states.
"They put on a full court press for more money," she said. "Their money had to come from somewhere. There was no support for increasing the total federal revenue."
Litigation ahead?
For years the New Hampshire congressional delegation successfully argued the state needs more of the pie because of its harsh winters, aging infrastructure and heavy traffic.
Burton said New Hampshire deserves a better share of federal funding because the state gets back 75 cents on the dollar in other parts of the federal budget.
"But let's deal with what we do have and make it go as far as possible," he said. "Congress isn't going to increase the gas tax. Here we are."
The councilors also said they were worried environmental groups might file suit to block or delay the biggest project in the plan: widening Interstate 93 to four lanes in each direction.
Attorney Nancy Girard, head of the New Hampshire office of the nonprofit Conservation Law Foundation, said her agency is thinking about litigation over I-93.
"We're finding problems they didn't cover in the environmental impact statement," she said. "We're double-checking their sources and methodologies and findings. We'll do that until we feel we've gotten all the information we need."
The draft state highway plan is going through 19 public hearings. The last one is Oct. 18 in Dover.
After hearing from the public, councilors can change the plan, and the Legislature will debate and possibly amend it. The governor can veto that product.