Corporate board members' firms often reap benefits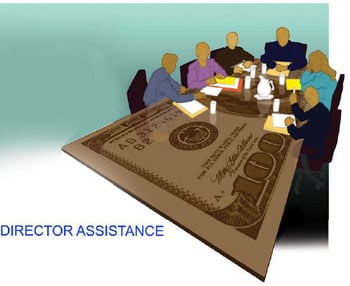 John Gillespie was one of the most poorly compensated members to serve on the board of White Mountains Insurance.
In 2007, the insurance conglomerate – which is officially based in Bermuda but has its corporate offices in Hanover, N.H. — paid him $177,000 for his service, based on a $100,000 annual retainer, some $4,000 to attend each meeting in person ($2,000 if done so by phone), plus some stock awards.
Yet thanks to White Mountains, Gillespie – the son of a former White Mountains board chairman — makes millions from the company he helps oversees.
Gillespie is the founder and managing member of Prospector Partners, which advises White Mountains on how to invest its billions – $2.5 billion in 2007, to be exact. For that service, White Mountains pays Prospector $12.6 million in annual fees.
Prospector has to repay White Mountains some $800,000 to reimburse its founding investment in the company, but then again, every year Gillespie is awarded performance shares.
Last March, White Mountains paid Prospector another $2.9 million, bringing the grand total to $14.7 million – more than the chief executive of the company and about 83 times his board compensation.
Gillespie also is part-owner of a building housing a White Mountains subsidiary, which pays some $85,000 in rent (of which Gillespie gets $17,000).
Gillespie is perhaps an extreme example of a board member of a New Hampshire corporation who profits from the company he or she is overseeing for the benefit of the stockholders — but he is not the only one.
A New Hampshire Business Review examination of the filings of New Hampshire-based public companies revealed board members who worked for law firms that handled millions of dollars of business, others with relatives on the payroll, and who, like Gillespie — collect rent. These indirect payments add up to as much as $20 million.
There is nothing secret about these kinds of relationships. They are fully disclosed every year on a company's proxy statement, which is mailed to every shareholder.
And there is nothing necessarily unethical about them either, adds Beth Young, a senior research associate at The Corporate Library, a Maine-based corporate governance reform organization.
"But it does raise a red flag," said Young. "None of those things mean anything bad is going on, but a director should be able to do what is in the best interest of the company and not be distracted by other competing interests they might have."
One key question shareholders should ask, said Young, is whether the director gets most of his or her income from that private business channel from the company. Such economic dependence on getting that business might cloud the judgment of the board member in question – or of other board members.
Young said that such relationships were more common in the past, but requirements for more independent directors in light of a spate of corporate governance scandals – such as those involving Enron, and closer to home Enterasys Networks and Tyco International — have made them less common.
"It wasn't just one law firm. It was a pretty significant level," she said.
Independent directors
Both John Gillespie and officials with White Mountains declined to discuss his various relationships with the company that were disclosed in its proxy statement. But George Gillespie – John's father, a White Mountains founder, and a former board chairman — would discuss his own, to some extent.
George Gillespie, who was paid $181,000 last year by White Mountains to serve on its board — is the special counsel and former partner of Cravath, Swaine & Moore, which performed legal services for White Mountains for years.
While George Gillespie said he never was the attorney doing the work, he did indirectly profit as a partner, and only obliquely has profited since retiring in 2005. That was about a year before the $600 million partial spin-off of OneBeacon, a Boston-based subsidiary in which White Mountains still maintains control.
His law firm was the counsel on that spin-off, and the legal fees were likely substantial, but New Hampshire Business Review could not determine what they were. The amount was not disclosed in the initial documents detailing the spin-off, nor were they in the proxy statement, which revealed Cravath, Swaine's involvement in the first place.
"I don't know what they charged. I don't pay attention," said George Gillespie when reached at his law firm. "We have provided legal counsel for White Mountains from the beginning, since 1985 and 1986. There has been no question about it. It's quite common practice."
When asked whether some people could construe this as a conflict of interest, Gillespie replied, "If they think that, they think that. That's up to them."
Similarly, another board member, Howard Clark Jr. – paid $216,000 as a board member – is vice chairman of Lehman Brothers Inc.
Lehman was the sole book running manager – or managing underwriter — for the OneBeacon spin-off, according to the latest proxy statement. Lehman also provides investment banking services, brokerage services, underwriting of debt and equity securities and financial consulting services.
In 2006 Lehman served as joint book running manager for two new revolving credit facilities for the company. The statement does not reveal how much Lehman was paid for its services, but it did underwrite more than 8 million shares in the spin-off, according to the OneBeacon initial public offering documents. The board concluded that Clark was an "independent" director.
Other White Mountains officials also have various "relationships" noted in the company's proxy.
Both of the Gillespies, along with chief executive Raymond Barrette, Allan Waters, president and chief executive of White Mountains Re, Reid Campbell, managing director of White Mountains Capital Inc., and Morgan Davis, a board member, owned limited partnership investment interests managed by Prospector.
In 2007, White Mountains (including OneBeacon) invested $147 million in such Prospector partnerships, though the proxy does not detail how much of that total went to those owned by White Mountains officials.
Finally, White Mountains repurchased $4.5 million worth of its shares owned by Fairholm Ventures II, owned by Bruce Berkowitz.
The proxy statement says that the company got the shares back at a discount, and therefore concluded that Berkowitz too was an independent board member.
Thanks to such determinations as to the independence of Berkowitz and Clark, White Mountains has a total of seven independent directors, which makes up a majority of the 12-member board.
Without that majority, the company couldn't be listed on the New York Stock Exchange, according to Securities and Exchange Commission-approved listing requirements. In addition, a company's key committees – auditing, compensation and corporate governance – have to be made up totally of independent directors.
Other questions
White Mountains is not alone in having such perceived conflicts.
Take Presstek Inc., a Hudson-based manufacturer of printing equipment.
Daniel S. Ebenstein, a Presstek board member compensated more than $77,000 in 2006, is a partner practicing intellectual property law at the firm of Amster, Rothstein and Ebenstein, which received $2.4 million in that year for services related to "intellectual properties matters," as well as a total of $800,000 for the two previous years.
Presstek is involved in a number of intellectual property matters, including an action against Fuji Photo that was filed in Germany in 2003, an ongoing action again Creo (subsequently acquired by Kodak) filed in New Hampshire in 2005, and, in February, a complaint before the International Trade Commission against VIM Technologies, an Israeli firm.
There has been some criticism on Yahoo's electronic message board that the company – which has struggled in the past few years – has been spending too much of its resources on such legal battles, but other shareholders have offered a spirited defense, arguing that the company needed to protect its property claims.
The proxy did not disclose whether Ebenstein participated in Presstek's decision to pursue these claims or hire his firm. Nor did it disclose whether Ebenstein did the legal work himself, or how much he was indirectly compensated as a partner to the firm.
Questions to Ebenstein were referred to Presstek, but the company did not offer a response by deadline.
According to the proxy, the board of directors determined that Ebenstein is an independent director and appointed him to the nominating and corporate governance committee. He was formerly on the compensation committee.
The New Hampshire company hit hardest by undisclosed conflicts was Pennichuck Corp. of Merrimack. Its former chief executive — Maurice Arel — resigned and paid a heavy fine in 2004 because of conflicts involving Southwood, the water company's real estate arm. Arel purchased a home from a partnership between Southwood and developer John Stabile, and his son received more than $500,000 in landscaping business from similar partnerships.
So it may have raised some eyebrows when the board disclosed that that partnership was contemplating hiring New England Realty Resources, a company owned by board chairman James Murphy, to provide up to $100,000 worth of brokerage services. The deal never came to fruition.
Murphy said he had represented Southwood before he joined the board, so that is how his name came up when the company was selling some office buildings.
"I have 36 years of real estate experience, and the company felt that I would work extra hard in getting them the best deal possible. I honestly felt I could do the best job for the company, and apparently the board agreed, but I said if we are going to do this, we are going to disclose," he said.