Convicted Enterasys exec implicates Benson, others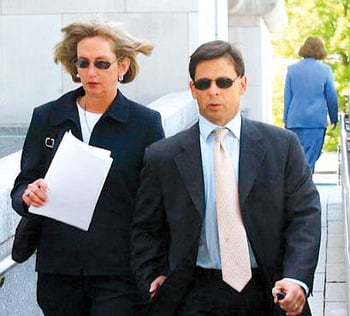 Robert Gagalis, the former chief financial officer of Enterasys Networks, filed a motion July 7 to vacate his securities fraud conviction with the claim that the real culprits – including former Gov. Craig Benson – were not targeted due to conflicts involving U.S. Attorney Tom Colantuono and Gagalis' own attorney.
Gagalis charges in his filing in U.S. District Court in Concord that Colantuono had ties to Benson and didn't recuse himself before Gagalis was targeted. He also says Goodwin Procter LLP, his attorney's firm, was representing a former executive of Cabletron Systems, the Rochester, N.H., firm that spun off Enterasys in 2002. Gagalis says the executive, Daniel Harding, was targeted for the same type of fraud that resulted in Gagalis' conviction but was never charged civilly or criminally.
The U.S. attorney's office flatly denied that Colantuono influenced the course of the investigation or prosecution, before or after his recusal.
"At no time did Tom Colantuono make any effort or have any impact on any decision relating to the prosecution or non-prosecution or any employee direction," said Robert M. Kinsella, chief of the criminal division and the acting U.S. attorney when it came to the Enterasys investigation.
Calls to Benson and James Rehnquist, Gagalis' former attorney, were not returned.
A federal jury convicted Gagalis and four former Enterasys executives in December 2006. He was sentenced in the summer of 2007 to 11-1/2 years in federal prison for conspiring to inflate revenue when Cabletron spun off Enterasys.
The sentencing was in accordance with a deal in which Gagalis waived his rights of appeal to avoid the possibility of application of more severe sentencing. Gagalis now contends he waived his rights on improper advice of conflicted counsel, and therefore the court should consider his motion to vacate the both the judgment and the sentence.
Gagalis was convicted of conspiring to increase sales through various accounting gimmicks, including secret side agreements and "three-corner deals" through which Enterasys "invested" in shaky companies in exchange for those companies buying its equipment through a distributor.
In the July 7 filing, Gagalis said that these questionable practices dated back to Cabletron and the firm's top executives from those days – Benson, co-founder and former CEO, Piyush Patel, Benson's successor as CEO at Cabletron, David Kirkpatrick, Cabletron's chief financial officer, and Eric Jaeger, executive vice president, all of whom still held power in Enterasys.
"The three-corner deals were planned and endorsed by Cabletron and Enterasys management, particularly Jaegar … and also Benson, Patel and Kirkpatrick," writes Gagalis' current attorney, Stephen M. Rasche, in his 51-page brief. "These three-corner deals were the basis of the criminal charges against Gagalis."
Jaeger, Patel and Kirkpatrick were never charged criminally, but the Securities and Exchange Commission has filed civil securities charges charging them, along with Gagalis and six other former Cabletron and Enterasys executives, with various three-corner deals. Benson has never been charged.
Accounting change
While Benson wasn't an employee of Cabletron or Enterasys at the time, Gagalis said he "in particular maintained close contact through an established network of individuals at Enterasys, most of whom were long-term Cabletron employees, including Gayle Spence."
Spence was charged along with Gagalis, and then pleaded guilty and became a key state witness.
Benson, according to the filing, was "extremely critical" of KPMG, Enterasys' accounting firm, misleading Gagalis "that KPMG was overly intrusive and cumbersome in its approach, when in fact Benson and others were anxious to fire KPMG to be able to more freely recognize revenue from the questionable deals."
Gagalis said he favored shifting the accounting method, so that revenue would not be improperly recognized, and three-corner deals would be more transparent.
"Patel and Jaeger were opposed to changing to the sales-out method and fought the change during the August meeting, as did Benson when the matter was brought to the board level in September 2001," according to the filing. Benson, a member of Enterasys' board of directors, served on its audit committee.
Gagalis, over Benson's objections, was able to convince the board to change, he says.
When it came time for finding fault, it was Gagalis who was targeted as the highest-ranking member on trial after former Enterasys CEO Henry Fiallo pleaded guilty and testified against Gagalis.
That's because, says Gagalis in his brief, Colantuono, a former Republican state senator and executive councilor before he was appointed in 2001 as U.S. attorney by President Bush, "had a long-standing political and personal relationship with Benson, who was at that time running for governor of New Hampshire."
Colantuono's relationship with Benson dates back "to his years as an executive council member from 1999 to 2001 in which he held responsibility for approving state contracts, including many which were awarded to Cabletron during his tenure," charges Gagalis.
The FBI and Assistant U.S. Attorney William Morse interviewed Benson on May 7, 2003, when he was accompanied by attorneys from the Boston law firm of Ropes and Gray, but even while Morse was managing the investigation it "remained under the direction and control of Colantuono," Gagalis charges.
Benson, according to Gagalis' filing, disavowed any knowledge of wrongdoing and instead "deflected knowledge down onto his then subordinates, including Gagalis."
There is no evidence of any follow-up on Benson, Gagalis states, but on April 13, 2003, "the U.S. Attorney's Office still operating under Colantuono" forwarded a targeting letter to Gagalis, "the basis of the prosecution having now been framed."
Colantuono recused himself "due to Colantuono's relationship with Benson," Gagalis charges.
Legal conflicts?
Kinsella would not say why or when Colantuono recused himself, only that he did so, "as soon as there was a question of appearance of impropriety," he told NHBR.
"Although Colantuono's conflict of interest due to his relationship with Benson, along with his late-coming recusal, clearly suggested a lack of prosecutorial impartiality, Gagalis' defense team never raised the issue despite abundant evidence that Gagalis was being targeted by the U.S Attorney's office in New Hampshire to bear the primary responsibility for wide-spread, long-standing, institutionalized corporate conduct which was well entrenched before Gagalis' employment even began," Gagalis charges.
The reason was because the defense team had its own conflicts, contends Gagalis, since Goodwin Procter also was representing Harding, who was the vice president of business development at Cabletron. (He also was once an associate at Ropes and Gary, a firm that represented Benson, Cabletron and Enterasys.)
Harding had since moved on to Cabletron's other spinoff, Riverstone Networks, where he was a target of an investigation into similar three-point deals. Riverstone moved out to California, and the investigation was being handled separately out of the Denver office. Enterasys moved to Andover, Mass., in 2003. The company was bought by private equity firms in 2005.
Still, contends Gagalis, because both investigations involved three-point deals dating back to Cabletron they were inevitability intertwined. Indeed, Harding was on Gagalis' team's discovery list.
According to the filing, it was actually assistant attorney William Morse who raised the conflict-of-interest issue of Goodwin Procter's representation of both Harding and Gagalis. Rehnquist passed that concern on to Gagalis in January 2005, but he allegedly told Gagalis that he had known about the double representation "several weeks" after Gagalis hired him in May 2004.
Rehnquist – son of the late Supreme Court Chief Justice William Rehnquist — dismissed the conflict, but said he would put up a "Chinese wall" in the firm to be on the safe side, so that the cases did not mix. But Morse kept on raising the issue, calling it a "serious" conflict because "a conflict may arise from the possibility that either Gagalis or Harding might receive some leniency for cooperating against the other."
In addition, if either were convicted, Morse worried that either would use the conflict as a basis to appeal, Gagalis charges.
At the time, Gagalis agreed with Rehnquist that it wasn't much of an issue, but he later e-mailed Rehnquist and said that "Harding may have some role in investment deals prior to my joining ETS (Enterasys.) He may have reported to Patel or Jaeger. If Patel, Kirkpatrick and Jaeger are indicted, could be a stronger possibility that Harding could end up testifying at my trial."
The firm didn't drop either client, and neither testified against or for the other.
Still, Gagalis contends that his defense was compromised. He says Rehnquist didn't raise his best defense because it would jeopardize Harding.
"Gagalis did have information regarding accounting irregularities concerning the allocation of capital and expenses during the spin-off of Riverstone which may potentially have involved Harding, and would have implicated others in Cabletron's senior management," his filing says.
Gagalis says he wanted to testify, but Rehnquist wouldn't put him on the stand because "he could well have implicated Harding, a Goodwin client, as being among those who promoted the three-corner deals."
Indeed, after the prosecution rested, the defense went right into its summation.
Meanwhile, Goodwin Procter lawyers representing Harding "disparaged" Gagalis, even appending his indictment to their response to his being targeted.
The conflict, Gagalis says, was "impermissible," and the basis for overturning the conviction.
Bob Sanders can be reached at bsanders@nhbr.com.