Consumers' perceptions are key to homebuyer actions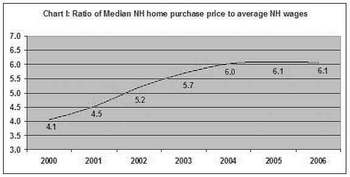 Have you thought about buying a flat-panel HDTV recently? If so, perhaps you experienced what we call "buyer hesitation" because you weren't sure if the price of those cool new TVs, which have been dropping, might be even lower next year.
With regard to those television sets, millions of Americans have decided that now is the time to buy. This is in part because they have become more affordable, but also because consumers now believe that the price is not likely to go much lower.
That same phenomenon is worth noting as it relates to the housing market in New Hampshire. Many buyers — particularly those who are not in a hurry — are hesitating because they believe that prices are likely to be lower in the near future. This represents a significant shift in the psychology of homebuyers from a year or two ago, when most of them thought home prices would keep rising.
The key question is this: When will this hesitation-leaning consumer sentiment regarding housing start to turn into a now-is-the-time-to-buy attitude?
One similarity between a home and a flat-panel HDTV is the issue of affordability.
The price of those televisions may not have reached their absolute lowest point, but they are significantly more affordable than they were a year ago.
One way to measure housing affordability is to calculate the ratio between average wages and home prices. This is easy, because the New Hampshire Housing Finance Authority publishes median home purchase prices at least annually, and the New Hampshire Economic and Labor Market Information Bureau publishes annual average wages for private employers. Both have data going back to 1990.
The ratio between those two numbers was remarkably flat through most of the 1990s. In 1990, the median home price was 5.3 times the average annual private employment wage. By 1992, that ratio had come down to 4.1, and with only slight variations it remained there until 2000, when the home price-to-wage ratio was still 4.1.
From 1992 to 2000, median home prices, which increased 41.5 percent, virtually tracked wages, which rose 43.8 percent.
But in the first half of this decade, home prices jumped from 4.1 to 6.1 times average wages. The reason: Median home prices rose 74.8 percent between 2000 and 2005, while average wages increased just 16.4 percent.
For a comparison, the U.S. consumer price index rose 13.4 percent in the same five-year period.
Two important notes: Interest rates were at historic lows during the first half of this decade, and vacation-home buyers in New Hampshire were far more abundant than they had been during the 1990s.
Watching wages
Unless there are significant interest rate cuts in the near future, during the last half of this decade it would be logical to expect home prices to track much closer to wage increases. But there are other forces at work.
We don't know, for example, what will happen with regard to second-home buyers. There is some indication that rising equity prices in the stock market may fuel some additional buying of second or even third homes in our state as well as in Maine and Vermont. Increasing wealth abroad may also bring more foreign buyers.
One additional factor is that older homebuyers with substantial equity are a larger fraction of homeowners in New England than at any time in the past. That makes it more likely that home prices will track at a somewhat higher ratio to wages than they did in the decade just past.
Perhaps more potential homebuyers would think it was time to buy if the median home price-to-wages ratio here were to gradually return to 5.7 or what it was in 2003. If next year's average wages were to rise at the same rate as they did last year (3.7 percent), that would mean in 2007 the average wage would be $44,000 and the median home price would be $250,800, or just about where it was in 2005.
The bottom line is that if average wages continue to rise and second-home buyers remain in the picture, then the consumers' perception is likely to be that home prices are stabilizing and it is time to buy. But we should keep an eye on workforce growth as well as wage increases going into 2007, because that will have a big effect on consumer sentiment regarding housing. nhbr
This article by demographer Peter Francese of Exeter originally appeared in the New Hampshire Association of Realtors' e-newsletter, Real Estate Market Trends.