Construction forum attracts three-state crowd
Innovation, trends discussed at Portsmouth event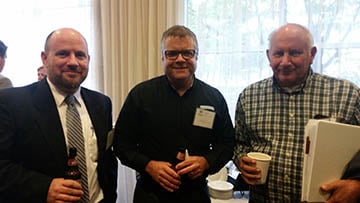 More than 100 industry professionals from New Hampshire, Maine and Vermont gathered Oct. 23 at the New England Construction Forum in Portsmouth.
Presented by accounting firm Albin, Randall & Bennett, the forum included 15 educational breakout sessions, in addition to a keynote address by Gregg Schoppman of FMI Corp.
Schoppman discussed "Innovation: The World of Construction 2.0."
The breakout sessions were presented by the leading accountants, law firms, business advisory firms, human resources consultants, marketing and public relations experts, construction technology and IT providers, surety professionals and accounting software vendors.
"We are very pleased with the success of forum," said David Jean, CPA and partner with Albin, Randall & Bennett. "It was a productive day of education on the latest trends and best practices facing the industry. As CPAs and business consultants who specialize in the construction industry, our firm recognizes the ongoing need for construction, real estate development and other A/E/C industry professionals to have access to timely, relevant and industry-specific resources specifically for the construction market. We are pleased to have gathered together the leading minds within the industry to discuss emerging trends and industry best practices."
Major sponsors included Accordant, Cross Insurance and Verrill Dana along with Media Sponsor, New Hampshire Business Review and Marketing Sponsor, Clockwork Design Group. Viewpoint Construction Software and Foundation Software sponsored breakfast and lunch.